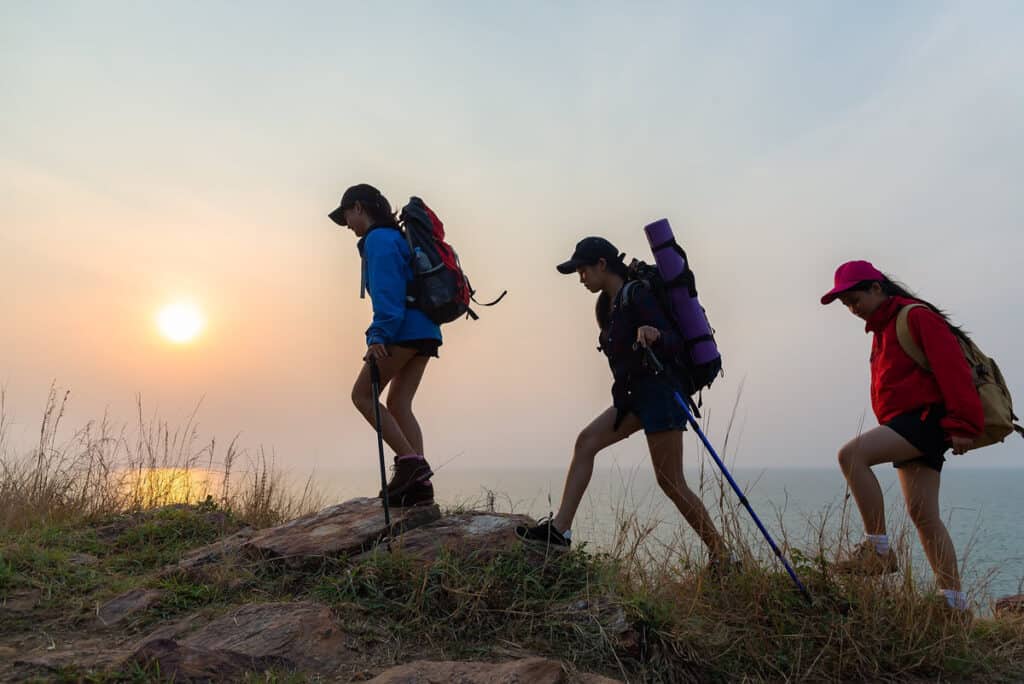 To make the most of a day hike, and to stay safe and comfortable on the trail, there are a few key pieces of essential hiking gear that you should bring.
While not as gear intensive as camping or backpacking, you should never set out on a day hike empty-handed or ill-prepared. Countless people get lost, experience dehydration, run the risk of hypothermia, or get injured on the trail every year.
By following our day hike checklist below, you can ensure you are prepared for whatever mother nature has in store, while still traveling light. Keep reading below to discover the most important hiking essentials to bring on every excursion.
Day Hike Checklist PDF
Here's how to create a customized PDF version of this checklist…
Any item listed below that has a check mark next to it will appear on the PDF version of the checklist (all the items are checked by default).
If you don't want a particular item to appear on the PDF version of your checklist, then simply uncheck the item and it won't appear on the PDF.
After that, simply click the "Click Here…" link that's located directly under this list and your customized PDF checklist will open in a new tab/window.
Hiking Equipment
Navigation
Personal options
Click Here To Create Your PDF Checklist
Day Hike Checklist Overview
Wondering what to bring on a day hike? Here are the essential categories to consider:
Hiking clothing and footwear
First aid and safety
Navigation
Hiking equipment
Food and water
Miscellaneous non-essential gear
It may sound like a lot, but in most cases, you can fit everything into a small backpack. To make things easier in the future, you can keep all of this gear ready to go in a backpack, so you can enjoy more hikes with less prep time.
Let's unpack each category to learn what to pack for a day hike.
What Should You Wear on a Day Hike?
The hiking clothing and footwear you choose will depend on the location of your hike and the weather conditions. Here's an overview that will work for most weather conditions.
Footwear
There's no gear more basic to hiking than footwear, so let's start there.
Hiking Shoes or Boots
Are boots or shoes better for hiking? There's no clear-cut answer. Some hikers prefer the durability and protection offered by traditional hiking boots.
But many hikers are ditching big boots in favor of lightweight trail runners, especially for day hikes.
What you choose will depend on the terrain and weather conditions you expect to encounter. For hiking in fair weather, where rain, snow, or mud isn't expected, trail runners can be a great option.
They are more breathable and allow you to move faster. But they won't offer as much support for rough terrain.
Boots are great if you expect to deal with moisture, or if you are carrying a ton of weight and need extra support. They are preferred more so by backpackers or those hiking many days in a row.
Hiking Socks
The socks you hike in are just as important as the shoes you choose. Bad socks can ruin a hike right away.
Avoid cotton and choose a sock designed for hiking made from wool or synthetic fibers. Merino wool is very comfortable and helps to regulate foot temperature, whether it's very hot out or freezing cold.
Even when wet, merino wool socks will continue to insulate and will dry quickly. When choosing hiking socks, you can select a pair with additional padding on the bottom, as well as your preferred cut length.
Most hikers prefer a crew cut to protect ankles from scrapes on rocks and branches.
In addition to thick hiking socks, you might also want to wear liner socks that wick sweat away from your skin, which helps to prevent blisters.
Hiking Pants or Shorts
Hiking pants are usually the better option unless you are hiking somewhere very hot. Pants offer more protection from trees, bushes, rocks, and sunlight.
Choose hiking pants made from durable, water-resistant materials like nylon. And make sure to choose pants that offer some stretch for a full range of motion.
Hiking Shirt or Base Layer
Good hiking shirts are made from merino wool or synthetic fibers. These materials will wick sweat away from the body, dry fast, and offer supreme breathability.
Choose a lightweight shirt in warmer conditions. Many hikers prefer button-up shirts to allow for venting. In cooler conditions, you can opt for a long sleeve base layer, which will serve as your primary insulation layer.
Never wear cotton on a day hike, as it doesn't wick sweat, loses its ability to insulate when wet, and takes forever to dry.
Mid Layer
Always pack a mid-layer. Experienced day hikers will always bring a lightweight fleece sweater, even on warm days.
Weather can turn fast, especially when hiking at elevation. If cold weather is expected, you can pack a soft shell jacket or puffy jacket for heavier insulation.
Rain and Wind Jacket
If facing high winds or rain, you'll want waterproof outer layers to keep everything dry and insulated underneath. Materials like Gore-Tex will keep you dry, regardless of how heavy it is raining.
Cheaper rain jackets may eventually soak through in heavy rains. Getting wet on a hike increases your risk of hypothermia, even in mild temperatures.
If heavy rains are expected, bring rain pants, rain gloves, and a waterproof hat to keep your entire body dry.
Hiking Equipment
Aside from your layering system, your hiking equipment will make up the bulk of your gear. This includes a daypack, trekking poles, and a few other trail necessities.
Backpack
To carry all of your gear, you'll want to purchase a pack specifically made for day hiking. They are lightweight, not too big, yet have enough pockets to conveniently fit everything you need.
A 20-liter pack is sufficient for most day hikers. For short hikes, a smaller pack might do.
It's helpful to buy a backpack in-store, as it allows you to try it on and search for something comfortable that fits your body type.
Choose a bag with a large central pocket for extra clothing and food, and at least one or two small pockets for things like a headlamp, first aid kit, or maps.
Trekking Poles
Trekking poles are a matter of personal preference. Many hikers swear by them, while others don't bother on short day hikes.
They are especially helpful on rocky terrain, as they can help stabilize your body and prevent rolled ankles or falls. They are also helpful when ascending and descending steep climbs.
For those with knee problems, trekking poles are a must.
Since they pack down pretty small, you can strap them to your backpack when not in use.
Flashlight
Never hike without a flashlight in your pack. Even if you plan to be back in the car long before the sun sets, getting lost or injured may change your plans.
Headlamps are the best option for hikers, as you can keep your hands free to use trekking poles while on the go.
First Aid and Safety
Never hit the trail without a small first aid kit. You can buy a premade one, or make your own in a zip loc bag.
Here's what to include;
Bandages
Blister tape
Medical Tape
Gauze
Antibiotic ointment
Tweezers
Ibuprofen
Benadryl
Lip balm
You can also include some water purification tabs in the event of a water emergency. Don't forget emergency essentials such as a whistle, lighter or fire starter, and an emergency blanket.
Even on short day hikes, it's possible to get lost. To prevent this, you can download local maps onto your phone.
Even when offline, your phone can show your exact location. You can use an app like OnX, Gaia Maps, or Topo Maps to download maps of the area you are hiking in.
They can also show features like terrain, elevation, and water sources without the need for cellular service.
Of course, it never hurts to have a paper or laminated map, which doesn't require batteries.
Satellite Communication
The best trails take you off the beaten track, which corresponds to a lack of cell service. It's great for disconnecting from the cares of daily life but poses a problem in the event of an emergency.
Small, portable, satellite communication tools are available, which allow you to send messages from any location on the planet. A popular option is the Garmin inReach. It connects to your smartphone, allowing you to send text messages.
A simpler, more affordable option is the Bivy Stick, which lets you buy credits to use as you go, rather than paying for a monthly subscription.
Food and Water
Even if you're only hiking for a mile or two, it's important to bring enough food and water.
For a full day of hiking, bring a minimum of two liters. If you don't want to carry too much weight, make sure to bring a water filter that you can use in creeks or lakes.
If you don't want to stop hiking to take a drink, pack a water bladder with a hose to stay hydrated on the move.
Hiking is an intensive activity. You'll need plenty of calories to keep your body fueled up. Plan for at least 400 calories for each hour you hike.
Granola bars, trail mix, beef jerky, cheese, and dried fruit are lightweight, calorie-rich options.
Additional Supplies
Here are a few other supplies to include for maximum comfort on the trail;
Hat
Sunglasses
Sunscreen
Insect repellent
Mosquito net
Toilet paper and trowel
Multitool
Portable phone charger
Small camera
If bringing a camera, it's helpful to purchase a clip that holds your camera on your backpack strap for easy access. The Capture Clip from Peak Design is a popular option.
It's also important to know how to use all of the gear you bring. For example, you need to know how to start a fire in the event you need to dry off or stay warm. Make sure to test GPS and satellite devices before hiking
What Not to Pack for a Day Hike
When learning what to pack for a day hike, it's equally important to know what items to avoid.
Here's what you don't need to bring;
Stove or cooking supplies
Books
Bulky or excess clothing
Extra camera lenses
Chairs
Extra shoes or sandals
Speakers
Body towel
Tent
Conventional blanket or heavyweight sleeping bag (an extremely light and packable one is ok)
When day hiking, your goal should be to bring as little gear as possible. Avoid unnecessary items, or search for the smallest, lightest alternative.
Hit the Trail With This Hiking Gear Checklist
By following this day hike checklist, you can pack everything you need and nothing that you don't. This ensures you are safe on the trail, relatively comfortable, and prevents you from carrying unnecessary weight.
Once you determine your ideal day hiking setup, it will be quick and easy for you to get out on the trail on a regular basis.
Here's a tip: be sure to check out our survival backpacking article for tips on how to stay safe in the wilderness.