Learning how to start a fire in a fire pit isn't as hard as you might think.
And there's nothing quite as satisfying as sitting outside around a cozy fire in your fire pit, having a relaxing evening after a long day of hiking, fishing, sightseeing or just working around the house.
However, before any of that can happen, you have to actually be able to start a fire!
But don't worry… by following a few simple steps, and knowing the right tools and materials to use, you'll know how to build a fire in a fire pit that will burn, long, hot and bright.
What You'll Need For Your Fire Pit
When you make a tasty meal, you have to have the right ingredients. Well, the same goes for a fire in a backyard fire pit. But to start a fire, you really only need four things:
1. Grab Your Fire Starter
This is, quite simply, a heat source that is hot enough to start a fire. There are plenty of fire starters that are easy to get and inexpensive. In fact, you probably have some of them in your home already. Survival matches, a cigarette lighter, a fire piston, or a butane torch lighter all count as fire starters. If the sun isn't too low in the sky and you have a magnifying glass, you can use that as a fire starter. Anything that generates a flame – no matter how small – can be used to start a fire, in an outdoor fire pit or anywhere else.
2. Gather Your Tinder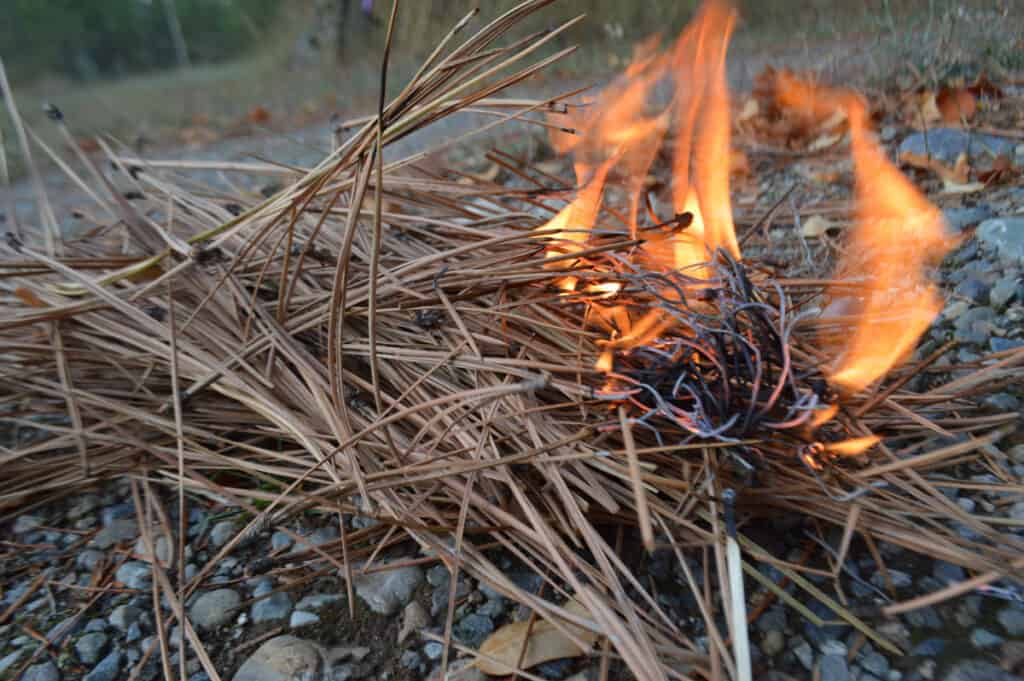 A fire needs three things to exist – heat, fuel, and oxygen. Your fire starter, mentioned above, is your heat source. You don't have to supply oxygen, because it's in the air all around you. But the third ingredient – fuel – is something you have to provide. And you should start with dry tinder.
What's tinder? Tinder is any material that will catch fire as soon as it comes in contact with a flame. You can use newspaper or scrap paper (shredded documents from your paper shredder work great), dry pine needles or leaves, wood shavings, pine cones, or thin pieces of tree bark. You can even use cotton balls soaked in Vaseline, empty paper towel or toilet paper rolls, used paper towels, or dryer lint.
3. Add Lots of Kindling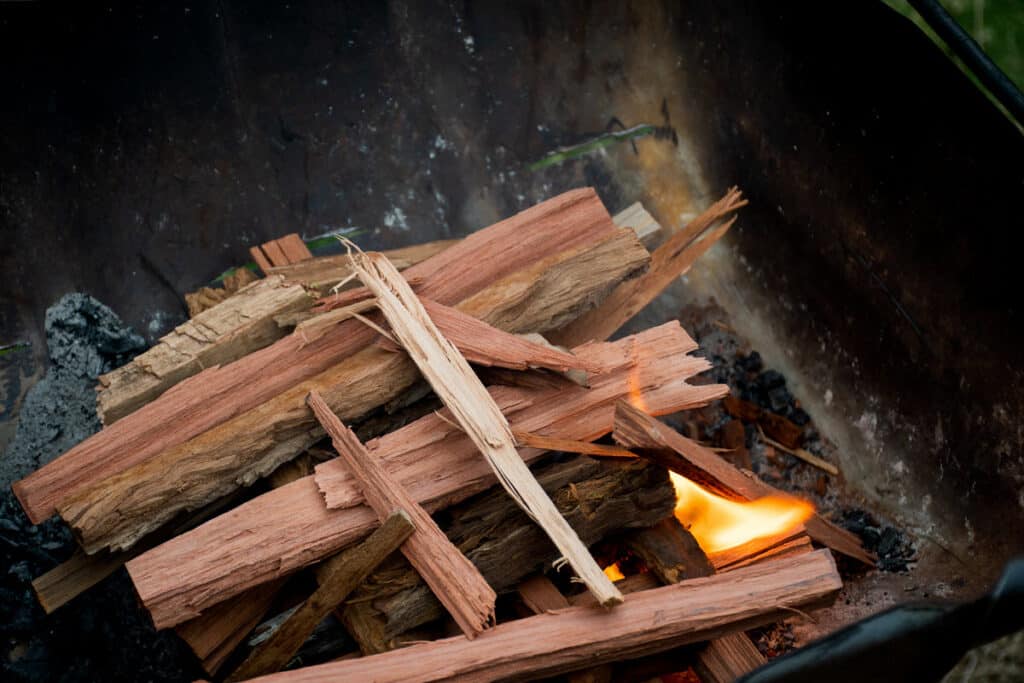 Next, you'll need kindling for your fire pit, which is a little heavier than tinder. It won't catch fire and flame out in a matter of a few seconds, and it's an important step in building a great fire. For good (and easily found) kindling, you can just use dried twigs and small dry sticks, not more than 1" or so in diameter. Fatwood also works great as kindling.
4. Use Dry and Seasoned Firewood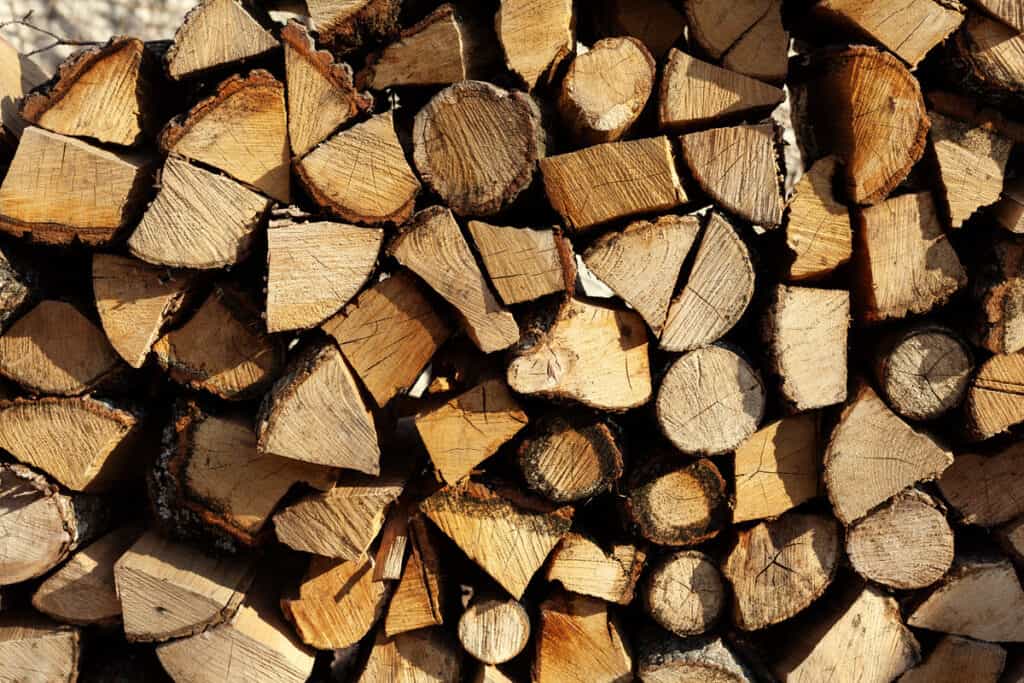 Think of firewood as the big brother to tinder and kindling. Firewood is large chunks of wood that will burn for a long time, and they're what you'll use to keep the fire going in the fire pit once it's started. The best type of firewood includes hardwoods like maple, oak, ash, and birch. You can use any wood, really, as long as it's dry. Green wood doesn't burn very well – it just sits there and pops and smokes.
You can buy seasoned firewood or kiln-dried firewood at a store, or find dry firewood lying on the forest floor. If it still has green leaves on it or doesn't snap when you try to break it, move on. It's not seasoned firewood yet.
If all you have access to is wet wood, then please read our how to start a fire with wet wood article.
How To Build A Fire In Fire Pit
Once you have all your ingredients, you're ready to get a fire started in your outdoor fire pit. So here's what you do:
Take some of your tinder – not much, maybe a couple of large handfuls – and make a tinder pile in the center of your fire pit. Next, lean some kindling up against it, all around, like you're building a sort of mini pyramid or teepee. The bottom ends of the kindling are against the tinder, and the top ends extend above it and inward and lean against one another.
When you're building your wood teepee, start with small pieces of kindling, not more than ¼" or so thick. As you add layers, you can put thicker pieces on as well. Just make sure the thinnest pieces are closest to the tinder. And be sure you don't completely cover the tinder. It should be visible, and there should be spaces where you can light it with a match or lighter.
The key thing to remember about firewood placement is that fires need oxygen, so make sure you have an open-structured firewood stack.
If you want more detailed information, you can find it in this article about how to build a fire.
Lighting Your Fire
Now it's time to actually start a fire. Light your match or lighter and insert it between the kindling to light the tinder. You may want to do this in two or three places around your teepee. The tinder should catch fire immediately, and as it burns, the smallest pieces of kindling will start to burn as well. Within a minute or two, the larger pieces of kindling will be going too.
When your fire is going pretty well – but before the larger pieces of kindling are completely engulfed in flames – start to add a few small pieces of firewood. Timing here is important. If you add firewood too soon, it'll smother the fire. If you add it too late, there won't be enough fire to ignite it. After you make a few fires, you'll get a feel for the right time to start adding firewood.
It could turn out that you want to build a fire but don't have matches or a lighter — be prepared by reading up on how to build a fire without matches or check out this list of the best ferro rods.
Keep Your Fire Going
Now it's just a matter of keeping your fire burning. Once the firewood is burning well, you can add more firewood whenever you wish. And the hotter the fire, the larger the firewood you can use. Don't waste your kindling at this point. You'll want to keep it to start the next fire.
If you maintain some sort of teepee structure even when adding firewood, your fire will burn high and bright. You can also crisscross the wood in layers, so it looks like a tic-tac-toe board. The important thing is to build your fire to allow plenty of airflow. Remember, oxygen is the third essential ingredient, and your fire wants a lot of it.
Occasionally, you'll need to stir the fire with a stick or poker so all the wood burns thoroughly. If the firewood is turning all black and crumbling, it's time to stir the fire and/or add more wood. If your fire is dying out and you want to bring it back, a few pieces of kindling should do the trick. Never pour lighter fluid or any other flammable liquid on a fire that is already lit.
Fire Pit Safety
Fires should always be in a wood burning fire pit that is designed for such a purpose. Make sure you have enough room for your fire pit. Never put your outdoor fire pit too close to a house, shed, garage, or any other structure. And be sure to clear away any straw, grass, or any other flammable material from the general area where the fire pit will be located.
Many wood burning fire pits come with a screened lid, and it's a good idea to keep it in place, removing it only to add more firewood. If you need to stir the fire, use something long enough to keep you a safe distance away. Be sure to avoid wearing loose clothing around the fire, and be careful not to touch the hot metal.
Always extinguish the fire before you walk away and leave it. You may not see any flames, but hot embers are still burning at many hundreds of degrees. A fire can easily reignite and cause a problem if you're not there to monitor it. You can easily extinguish a fire with water, dirt, or both.
Enjoy your fire!