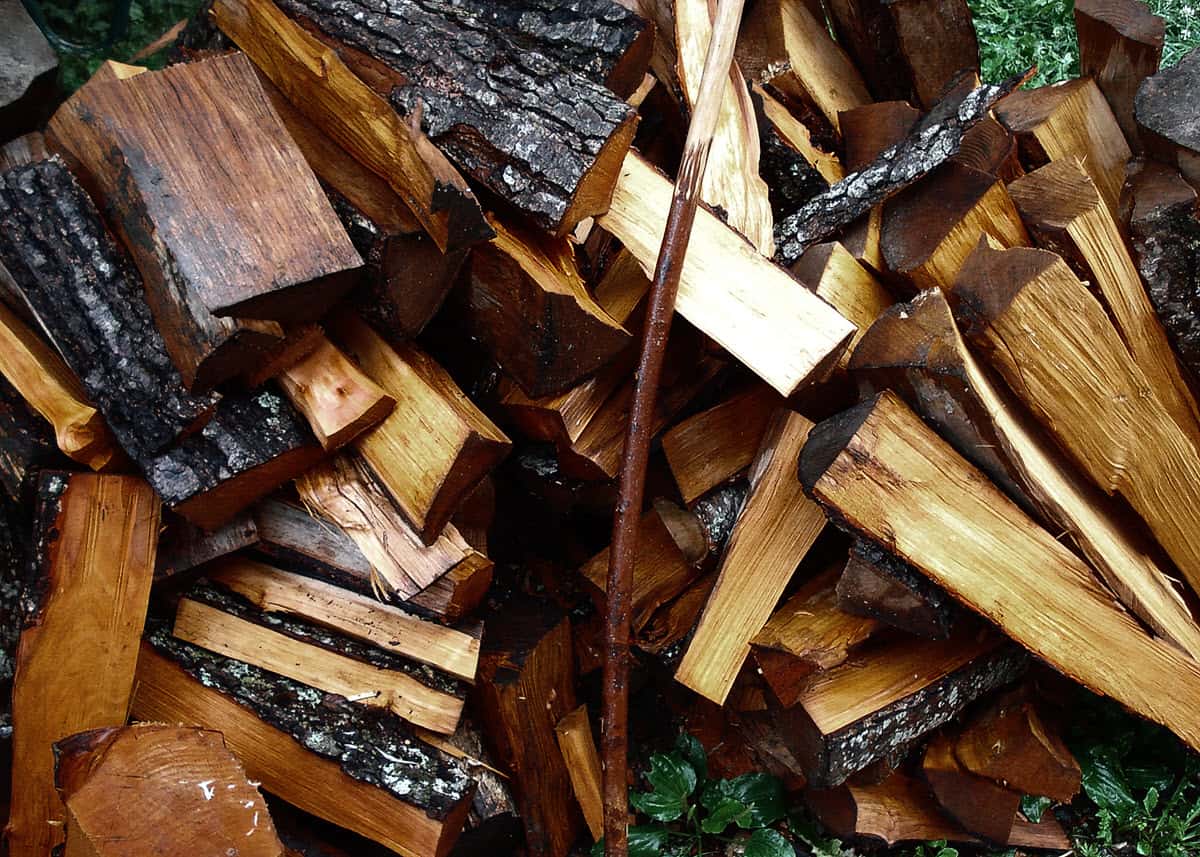 If you find yourself in a situation where you need to know how to start a fire with wet wood, don't despair. You can get the job done with a little effort and the right supplies. Even if you already know how to build a campfire, you might need a few tips to deal with building a fire in wet conditions.
Gather your materials
You will need lots of tinder and kindling or firestarter material to burn the wet pieces of firewood.
Tinder is anything that catches fire quickly, like dry leaves, paper, bark, or cotton. Kindling is halfway between tinder and firewood in terms of how quickly it catches fire — most often it's sticks, twigs, and bark. Prepackaged firestarters are a convenient mix of tinder with a fire accelerant, such as wax, pine pitch, or any of various petroleum products.
Pick a Site
You may need to avoid fire pits, as they'll likely have a puddle of water at the bottom. And look out for trees overhead that can drip water or melted snow on your fire. You may need to build your fire on a bed of bark or kindling to keep the tinder off the wet ground.
Build a Teepee and a Log Cabin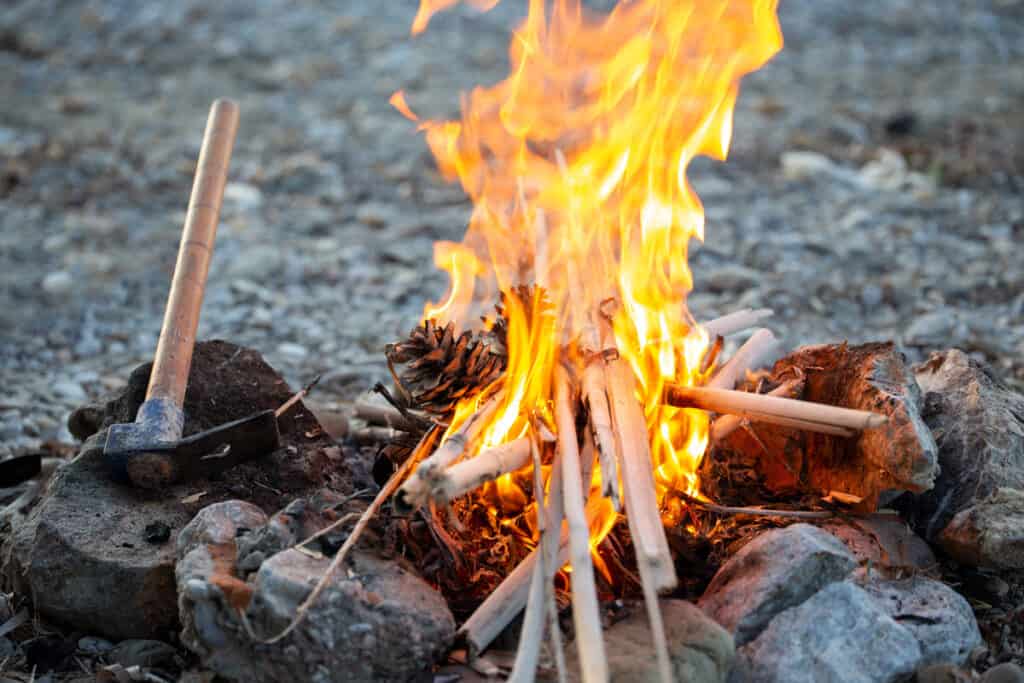 Build a teepee fire lay with the dry kindling around the tinder, with the smaller pieces near the center and the larger pieces at the outside. The idea is to give your fire enough air and space to breathe and not be smothered beneath bigger pieces of wood.
Then you'll want to use your firewood to build what's known as a log cabin fire lay (because it looks like a log cabin) around the kindling teepee so that the wet wood is dried out and ignited by being exposed to the heat of the burning teepee after the fire is started. Here again, you want gaps between the wood for airflow.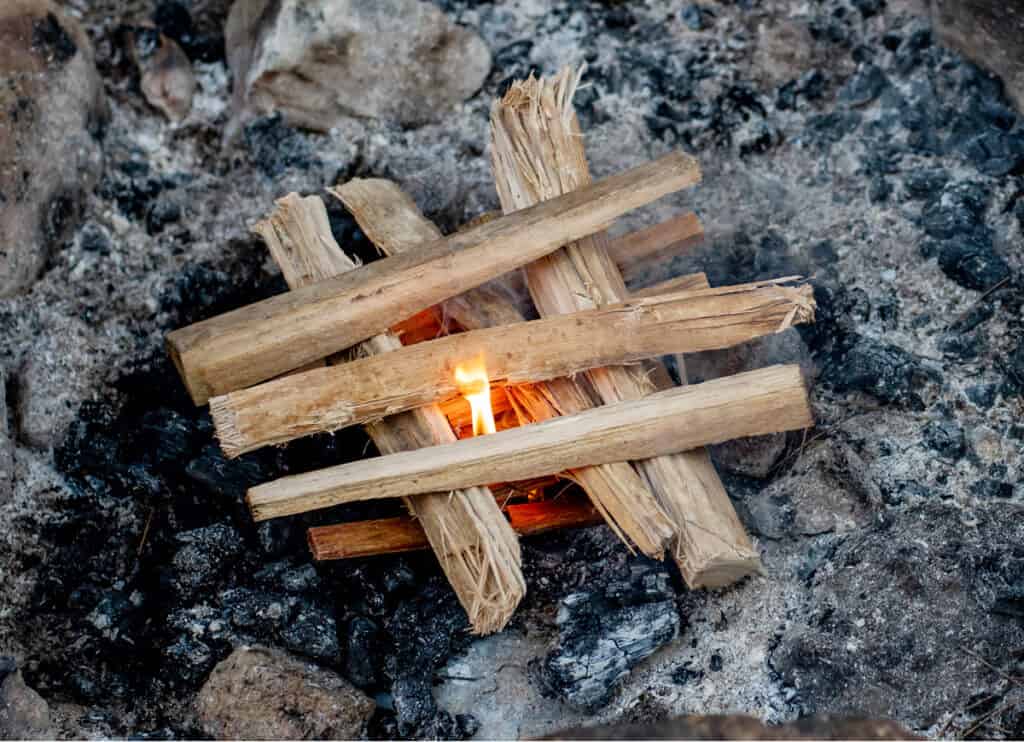 Building up the wet firewood around the sides and above the kindling and tinder creates a sort of mini ecosystem that helps to get (and keep) your fire going.
When set up correctly, the flame from the kindling will catch onto the wet logs on either side or over the top, drying them out so that they can eventually burn. This technique is beneficial if starting a campfire or bonfire in the rain when dry wood is hard to come by.
Start the Fire
Light the kindling at the bottom of the teepee, using either a match, lighter, or whatever ignitor you have.
Quick Tip: Check out our article How to Start a Fire Without Matches
Tend the Fire
Once lit, you'll need to continually feed more kindling into your fire as it burns — using smaller sticks and twigs at first, then larger pieces when required to keep your fire going.
Once the larger firewood is burning, you'll need to add more wet firewood off the sides of the fire to dry it out so it will be ready to burn when the fire starts to get low.
Maintain Airflow
Remember that good airflow not only helps the fire burn hotter, which is essential with wet wood, but it also helps reduce the smoke produced by the fire.
So, once the initial log structure burns and collapses, you should stir the coals to create air gaps, which helps increase airflow.
And when you add new logs to the fire, make sure you are stacking them in a log cabin structure to help increase the airflow… which will help the wet wood burn quicker and with less smoke.
With some patience and skillful construction of a kindling 'teepee' and log cabin structure, you should have no trouble starting a fire with wet wood.