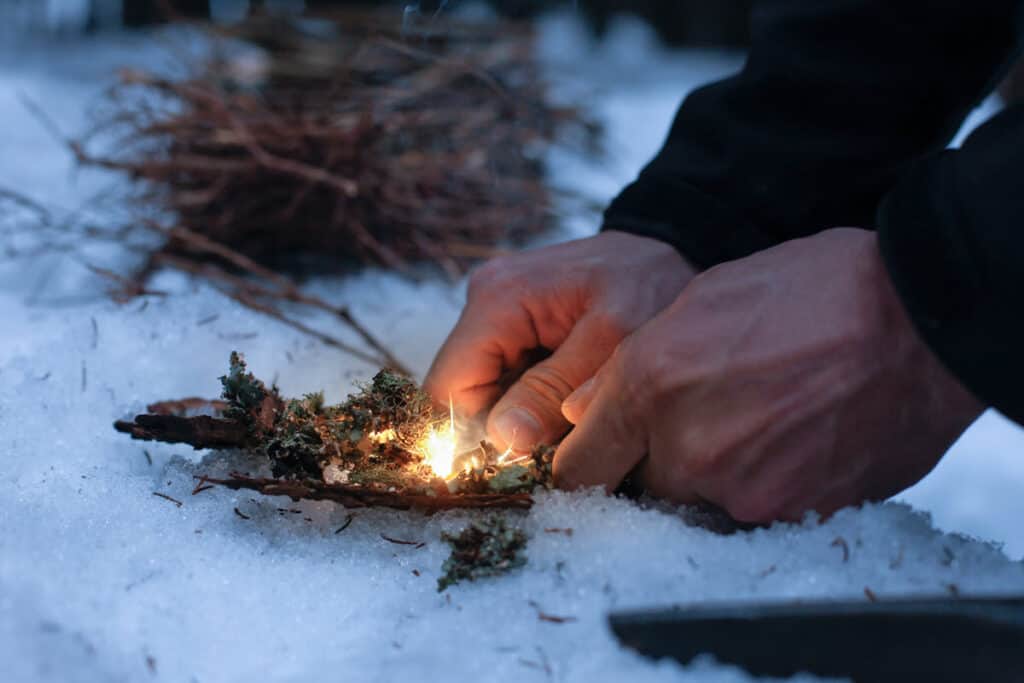 It's important to use the proper technique when starting a fire with a ferro rod:
1. Hold the ferro rod close to the tinder at about a 45-degree angle. *
2. Place the scraper near the top of the ferro rod so it makes solid contact with the rod, just below your hand.
3. Pull the rod back (away from the tinder) with a slow and steady motion. By pulling the rod back (instead of rubbing the scraper forward) you'll create a spark at the same place. But you'll do it without risking bumping the scraper into your pile of tinder and scattering it all over the place.
*Tip: If you're collecting tinder on the spot, consider pine needles, plant fibers, bird nests, hair, shredded strips of duct tape, even fine strands of steel wool. Or, you can plan ahead by keeping a bag full of dryer lint, cotton ball fire starter balls, or a small tin of Fatwood in your EDC backpack.
Learning how to master the use of a ferro rod as a survival fire starter technique is a survival skill that can save your life in an emergency situation, even if your matches are wet… (see "Are Ferro Rods Waterproof?") or your lighter runs out of fluid… which is why a ferro rod fire starter is a must-have survival tool!