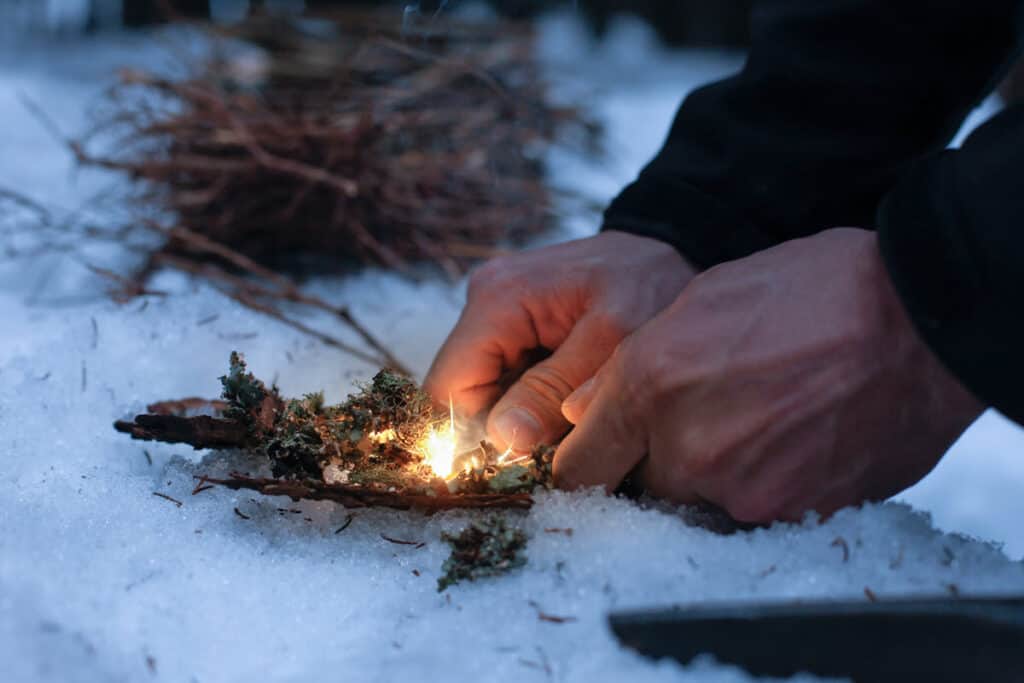 It's important to use the proper technique when starting a fire with a ferro rod:
1. Hold the ferro rod close to the tinder at about a 45-degree angle. *
2. Place the scraper near the top of the ferro rod so it makes solid contact with the rod, just below your hand.
3. Pull the rod back (away from the tinder) with a slow and steady motion. By pulling the rod back (instead of rubbing the scraper forward) you'll create a spark at the same place. But you'll do it without risking bumping the scraper into your pile of tinder and scattering it all over the place.
*Tip: If you're collecting tinder on the spot, consider pine needles, plant fibers, bird nests, hair, shredded strips of duct tape, even fine strands of steel wool. Or, you can plan ahead by keeping a bag full of dryer lint, cotton ball fire starter balls, or a small tin of Fatwood in your EDC backpack.
Learning how to master the use of a ferro rod as a survival fire starter technique is a survival skill that can save your life in an emergency situation, even if your matches are wet… (see "Are Ferro Rods Waterproof?") or your lighter runs out of fluid (the everstryke permanent match helps you avoid that situation)… which is why a ferro rod fire starter is a must-have survival tool!
Bestseller No. 1
BCHARYA Fire Starter Survival Tool, Ferro Rod Kit with Leather Neck Lanyard and Multi-Tool Striker, Flint and Steel Survival Igniter with Tinder Rope and Tab for Camping, Hiking and Emergency
FERRO ROD FIRE STARTER – Includes a 3.15″(Length) X 5/16″(Diameter) ferro rod. Made of a high quality ferrocerium and magnesium blend, each fire rod can withstand over 12000 strikes at 5,500 F (3,000 C). Start fires in any weather (even wet), at any altitude.
WITH LANYARD & MULTI-TOOL – Comes with a leather lanyard and a 6-In-1 multi-tools that function as a straight-edge striker, tinder scraper, map scale, ruler, hex wrench, and most importantly – a bottle opener.
QUICK & EASY TINDER – 4 tinder ropes and 2 tinder tabs included. Wax-infused natural tinder is easy to ignite from the sparks of ferro rods and also has strong weather resistance, so you can safely start a fire whenever you need it!
LIGHTWEIGHT & COMPACT – Fits easily in your pocket, backpack, and is the perfect fire starter kit for camping, hiking, hunting, fishing, EDC, emergencies and more.
Quality Service – BCHARYA provide 24×7 after-sales support service to solve any of your worries, please feel free to contact us.
Bestseller No. 2
West Lake Tactical Pack of Eight (8) 5/16″ DIY Ferrocerium (Ferro) Rods Flint Fire Starter Magnesium Tool Kit AKA Firesteel, an Essential Part of Any Survival Kit
✔️ GET 8 RODS: Eight West Lake Tactical Ferrocerium rods only (No Striker or other accessories). If you don't have a good scraper, we suggestion you try a knife or a box cutter.
✔️ COMPACT & LIGHTWEIGHT: West Lake Tactical Ferrocerium rod is 3in x 5/16in and weights 1 oz. More reliable than matches or lighter, this Firestarter is easier to strike and gives off more sparks.
✔️ INSTANT FIRE: Start fires under any weather conditions. One Rod can be used over 12,000 times. Sparks shower at 5,500 F (3,000 C) to ignite a fire in any weather (even wet), at any altitude. Perfect emergency fire starter for Bush-craft, Hiking, Camping, Hunting, Fishing, EDC, Emergency, BBQ, Gas Camp Stoves, etc.
✔️ COMPOSITION: West Lake Tactical Ferrocerium or Ferro rods, are made from Iron, Magnesium and a rare earth metals called misch-metal. This combination has an excellent pyrophoric percentage > 98%. In short, West Lake Tactical's specially blended Ferrocerium rods is highly effective, waterproof, weatherproof and works in any weather condition.
Bestseller No. 3
bayite 4 Inch Survival Ferrocerium Drilled Flint Fire Starter, Ferro Rod Kit with Paracord Landyard Handle and Striker, 4″(Long) x 3/8″(Diameter)
5ft Paracord included, gives you a good grip and never comes off. Comes with a bayite Striker-Pro striker attached to the paracord, always be prepared to start a fire
bayite 6 Striking Edges Striker-Pro striker is made from TOOL GRADE HSS STEEL and has a distinct hardness, maximizes a shower of hot sparks, no matter whether you prefer to use your left hand or right hand to scrape. Don't use bad quality Knife as striker. Otherwise it will not produce enough sparks due to insufficient hardness of blade
Ferrocerium Rod Length:4″(10cm). Diameter: 3/8″(10mm). Large enough for a shower of sparks and small enough to carry
Made of high effective ferrocerium rod. Waterproof & Weatherproof, fits all weather, works in any weather condition
Sparks shower at 5,500 F (3,000 C) to ignite a fire in any weather (even wet), at any altitude. Perfect emergency fire starter for Bushcraft, Hiking, Hunting, Fishing, EDC, Emergency, BBQ, Gas Camp Stoves, etc