Choosing the best ferro rod, also known as a Ferrocerium rod or Firesteel, and learning how to use one to start a fire is like learning to use any other survival gear; it's better to learn how to do it now rather than waiting until you actually need it to save your bacon (or cook it).
Our Top Picks
Here's a quick list of our top overall picks in multiple categories:
Best Ferro Rods
Here are 16 of the best ferro rods that have been reviewed, highly-rated and battle-tested by thousands of outdoor enthusiasts and survivalists alike (I may earn a referral commission on qualified purchases).
Uberleben is our choice for best ferro rod brand for a reason… When things go wrong in the outdoors, your best chances of making it out are the survival tools. This is precisely why you can count on überleben firecraft to get you out of the trouble quickly, and überleben Zünden Fire Starter is no exception.
Inspired by tradition, this fire steel can generate an amazing 5,500-degree spark in any weather condition. It means you can easily light up tinder, kindling and other fire-starting materials with ease. Unlike some of the other products in the market, it does not require repeated scraping because the trademark Sanft-Korr ferrocerium produces a shower of sparks with a single strike.
The Zunden itself is more than 2.75 inches long. Depending on individual requirements, there are three different thickness levels that correspond to the number of strikes each level can generate over a lifetime.
The Zunden comes in three sizes starting with the Trad, which is 5/16″ thick and is expected to last for nearly 12,000 strikes. For long-lasting results, you can also choose the Pro model (3/8″ thick) or the 1/2″ Fatty version that can provide 15,000 and 20,000 strikes, respectively.
Each of these sticks comes with a handcrafted wooden handle that is designed for natural grip (and can be used as wood shavings for tinder in a pinch) . The grip makes it easier to use with either hand. In fact, the seasoned finish offers a very strong grip for oily, greased or bare hands even in the coldest weather.
The Uberleben Zunden is a very popular choice among survivalists, preppers and outdoor adventurers looking for the perfect balance of softness and durability. It consistently outperforms the other leading fire starters by quickly and easily throwing off a shower of white-hot, fire-starting sparks… even in the most demanding weather conditions.
Click here for the best available price for the Uberleben Zunden on Amazon.
2. Fire-Fast Trekker (Best Combination Fire Starter)
The Fire-Fast Trekker is a combination Ferro Rod and Military Grade Magnesium Rod of massive proportions that's designed to provide you with years of hassle-free fire starting. It's the perfect survival gear and fire-starting tool for hiking, hunting, backpacking, bushcraft, camping and survival.
It's made in Austria and combines over a century of old-world craftsmanship with high tech know-how. It's designed to produce a massive shower of white-hot sparks and thousands of one-strike fire starts.
The built-in Military Grade Magnesium Fire Starter can be shaved off and used as a source of waterproof tinder that bursts into intensely hot flames when ignited by sparking-up the Trekker.
The Fire-Fast Trekker has a hardwood handle that provides for the surest of grips, even under the most extreme weather conditions including freezing cold temperatures, snow flurries and even pouring rain. An added bonus is that the hardwood handle can be shaved-off and used for tinder pile in an emergency situation.
The included striker/scraper is made from hardened steel and is sharp enough scrape the ferro rod and magnesium block to ignite your kindling with ease, but not sharp enough to cut your hand. Tip: use the scraper to scrape off the rod's protective coating before your first use.
The paracord strap has a tensile strength rating of 550lbs and is made in the United States by a certified U.S. government contractor, so it shouldn't rot or break even under the most adverse conditions.
The Fire-First Trekker hardwood handle and the striker/scraper both come with pre-dilled holes that allow them to be attached to the paracord strap, so you'll never have to worry about losing one the most important pieces of your fire-starting kit (try that with those chintzy little steel-ball straps that other lower-quality fire starter tools come with).
The Fire-Fast Trekker is a combination ferro rod and magnesium rod that is reliable, waterproof, and designed to light thousands of fires, even when wet. It's one of the toughest fire-starting tools around, and it's built to stand-up to years of use and abuse.
Click here for the best price for the Fire-Fast Trekker on Amazon.
This super-sized tool is the biggest ferro rod I've ever seen from a thickness standpoint (3/4 inch diameter) and it's designed for long-lasting use in extremely rugged conditions. Dubbed as "Fat Boy", it's twice as thick as other large-size fire sticks. The added thickness offers improved performance for up to tens of thousands of strikes.
Arcadia brand distinguishes itself for offering the highest-quality products, which is reflected in the high magnesium content of the Rod that enables it to keep ablaze in wet conditions. To ensure smooth operations, manufacturers have also added a high-quality suregrip wooden handle. This wooden grip is critical for wet conditions when it often becomes impossible to grip the stick with bare hands.
For added security, the exposed part of the rod is nearly 5.75-inch. Such exposure definitely comes handy when you're lightening up in dark conditions. It is also super helpful for amateurs and first-timers to learn the art of firecraft.
As a long-term survival tool, the "Fat Boy" is one of the best ferro rods available and is designed to last a lifetime. The quality is guaranteed by Arcadia, which means you can return it if you don't like it – no questions asked.
Search for the best price for the Arcadia Gear Fat Boy.
The Uberleben Hexa fire starter stands out from other ferro rods due to its hexagonal shape.
Six flat sides offer you more striking surface area, which gives you more control over the shower of white-hot, molten ferrocerium that this bad boy easily throws off with each strike.
The included striker has additional uses as a multi-tool:
Concave tinder scraper to help make kindling with softwood like Fatwood.
Straight-edge spine with a fifty-millimeter ruler
Hex wrench
Bottle opener to enjoy your favorite cold beverage by a crackling fire (that you started with your Uberleben Hexa, of course).
The Uberleben Hexa will work at any altitude or weather conditions to produce 5,500-degree sparks and are long-lasting for up to 20,000 fire-starting strikes.
The Uberleben Hexa is available in two lengths including a more compact three-inch (3") version and a six-inch (6") version for longer strikes. Both are half-an-inch thick and made with Überleben's exclusive Sanft-korr ferrocerium that is the perfect combination of softness and durability.
The Uberleben Hexa includes a full-grain leather lanyard that can be used to secure the fire starter to your gear where you'll quick and easy access to both the ferro rod and the striker when you need it.
The Uberleben Hexa is great for serious grill-masters, backpackers and campers, or to keep with your emergency supplies for situations where you need a quick fire to cook food or provide heat.
Here's the best part:
The Uberleben Hexa comes with a hassle-free guarantee – If you're not happy for any reason at all… simply let Uberleben know and they'll fix it. It really is that simple. That's one the many reasons I consider Uberleben to be the best ferro rod brand on the market.
Check out all the 5 star reviews for the Uberleben Hexa on Amazon.
The Schrade SCHFS1 is a no-frills product and an extremely affordable price.
The Schrade SCHFS1 is relatively short and thin, so you need to be extra careful about making a solid contact and using a smooth stroke with the included metal striker.
However, it has an easy-grip handle, a steel striker, and a handy lanyard that holds them altogether. Plus, it's extremely lightweight at 1.1 ounces with a space saving of 4 inch length, so it's perfect for anyone looking for an extremely compact and portable fire-starting tool.
Not to mention, it's also one of the least expensive all-in-one fire-starters you'll find.
Check out the best prices for the Schrade SCHFS1 on Amazon.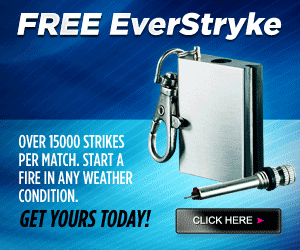 The Friendly Swede is an extremely durable fire starter that works under the most extreme weather conditions, including torrential downpours and blinding snow storms.
The rust-free ferroceriums rod are durable, lightweight and are designed to last for thousands of fire-starting strikes.
This Friendly Swede Fire Starter kit includes 2 5-inch ferro rods with easy-grip handles, 2 2 ½ inch steel striker and 2 steel ball chains.
Click here for the best prices on Amazon for The Friendly Swede 2 pack.
Fire sticks don't come any better than EricX Light because it includes all the classic elements of style, durability, and function associated with exceptional products. The original pack comes with 2 ferrocerium rods that are each 6-inches in length and almost ½ inch thick.
The Ericx Light is weather resistant and water-proof making it suitable for the most extreme outdoor environments. For improved results, it is highly recommended that you scrape the protective coating off the outer surface of the rod before using.
Each stick comes with a lanyard hole that can be used to create your own survival kit. For outdoors, the super-size stick will fit in a pocket-sized bag. Survival instructors find the length convenient for teaching fire skills to amateurs as new learners like the added space to scrub the striker.
The original pack does not come with a striker, but these sticks are made to be used with a variety of striking materials. It can be scraped with a knife, saw blade or a scissor. Some users have reported that the high-quality ferrocerium works with natural strikers such as glass and sea shells.
Due to the durability of the material, it's not uncommon for experts to build wooden handles on the stick when required. Overall, it's an exceptional product considering that the company offers these rods at unbeatable factory rates on Amazon.
Click here for the lowest prices on Amazon for the EricX Light
If you ever dreamed of finding the perfect survival gear for your fire starter kit, then the Bayite is as close to perfection as it can get. This large ferro rod is an all-in-one solution that consists of a 1/2 inch by 6 inch long drilled ferro rod, a striker, and a high-quality paracord, which works in all weather conditions.
The six-inch-long Bayite offers a lot of extra lengths to use, which allows survival guides and drill instructors to train their students, safely. The large ferro rod produces huge sparks on scrapping the underlying silver metal. The build-up of energy during the process is almost 5,500 degrees Fahrenheit.
If used appropriately, a single Bayite Ferro Rod is capable of lasting nearly 12,000 strikes. You can easily use any sharp object as a scrapper; however, low-quality knives are unable to produce the high-amount of heat energy that this rod is able to generate. For maximum performance, scrap the black coating to reveal a shiny layer underneath before use.
This kit also comes with 6 striking edges striker-pro, which is an industry leading striker that can easily get the job done even when used by an amateur. The multi-edged TOOL GRADE HSS STEEL can be used with either the left or the right hand. In addition, you also get a complimentary 9-feet of paracord included in the kit ensuring that you don't lose it during emergency situations. Overall, Bayite offers the best ferro rod for money given just how much fire-starting power you get an an extremely affordable price.
Click here for the best prices available for the Bayite in a wide assortment of sizes.
If you're tired of using the typical fire stick, try the military-grade fire starter that is also used by the Swedish Department of Defense. Developed by survival expert, Lars Falt, Swedish Firesteel uses the hardened aluminum alloy for maximum durability and results. Instead of using ferrocerium, the alloy provides consistency at higher altitudes, freezing temperatures, and wet conditions.
Since its development, Light My Fire Swedish FireSteel has stood the test of time by offering a reliable solution to survival professionals around the world. Weighing only 50 grams, it can also be easily used to light up barbeque grill and stoves. It is an ideal companion for camping, hiking, and outdoors.
The included striker is built from high-end precision-ground stainless-steel material. Designed for maximum effectiveness, the striker can easily generate sparks of up to 3000 Celsius, with a single swipe. The Firesteel rod and the starter are tied to a built-in emergency whistle offering a comprehensive survival kit.
The entire Firesteel kit has been tested in the harshest of conditions, which is a testament to its design and durability. It is an essential tool for mountain survival where low temperatures can make it difficult to ignite a fire using traditional fire sticks. Your Ferro rod will not be affected by dampness and low oxygen when you need it the most.
Click here for the lowest prices for the Light My Fire Swedish FireSteel.
The 4DB can theoretically last 400,000 strikes due to its hard cerium and soft metal core. Scrubbing a sharp object on ferrocerium will yield multiple hot burning globes that are visible from a large distance. In fact, its unique quality to produce fire globes makes it a great source of emergency signals.
Another distinguishing feature of Rod Firestarter is a 34 cm long snake braid that also doubles as tinder, whenever you need it. There are eight inner strains of jute twine tinder on paracord. Offering all-in-one solution, you can easily start a fire anywhere using the fire stick and tinder without searching for a source.
For hiking enthusiasts, the kit comes with a 4DB camouflage carabiner. It is not rated for climbing, but you can also use it to easily clip to handbag, emergency kit, or hiking gear. For young scouts, the 4DB Ferrocerium Rod fire starter is purposefully built to be soft. The extended length and softness of the stick ensures that it can be used by small children under the supervision of adults.
While similar fire sticks can be expensive, this 4DB 1/2″x5″ Firestarter is significantly more affordable. It will work with any kind of striker that has a 90-degree edge. You can either buy a stand-along striker in stores such as Amazon or use household objects including glass, knife or sharp metal.
Lock in the lowest price on Amazon for the 4DB 1/2″x5″ Firestarter
The Exotac fireROD is an "Amazon's Choice" for a reason. It is one of the few sticks that have a custom handle (there are 4 custom colors to choose from), which can be used to replace with a high quality ferro rod whenever your old stick gets out-dated. The replacement rod can be ordered on Amazon or directly from the manufacturer.
The Exotac fireROD has over 4 inches of exposed material that can be easily scraped using a striker. When needed, just use the spine of a knife at 90-degree angle to easily ignite a fire. A single stick will last over 5000 strikes under normal conditions. It can produce intense sparks in adverse weather conditions including torrential rain.
You can use this Exotac fireROD for every imaginable activity including hiking, survival training, and Bushcraft . Designed to carry with a knife, the waterproof storage capsule on top of the handle can store a variety of tinder. The storage is also used to carry water purification tablets and other useful emergency accessories.
When needed, just use the spine of a knife or a steel striker at 90-degree angle to easily ignite a fire. A single stick will last over 5000 strikes under normal conditions.
Overall, the Exotac fireROD is a versatile fire stick that has one of the most unique designs you'll find.
Click here for the lowest prices available on Amazon for the Exotac fireROD
The Uberleben Kraftig is tied with the Arcadia Gear Fatboy as the biggest ferro rod (it's not as thick as the Fat Boy but it is several inched longer). Available in both 5 inch and 8 inch models, this ferro rod comes with a sharp concave scraper that can carve through dry tinder and magnesium with ease. The 1/2″ (12.7mm) Sånft-kōrr™ ferrocerium rod grants a whopping 20,000 strikes per rod. Even the most active camper, backpacker, or survivalist will be able to use this tool for years to come.
By running the multi-tool scraper along the rod, you can create sparks of 5,500º F (3,000º C) to light fires in any weather condition or altitude. Included is a 3mm shock-cord lanyard that allows for convenient transportation and prevents the smaller multi-tool from getting lost. The lanyard can also be untied and used to tether down other troublesome things in a tough situation.
Uberleben's Kraftig ferro rod comes with a multipurpose tool, connected via lanyard. The tool incorporates a built-in spine scraper edge, concave serrated scraper, ruler, bottle-opener, hex wrench, and map scale into one. Who needs six bulky, disjointed tools when this fire starter weighs in at 4.2 oz (5″) and 6.2 oz. (8″) for a compact, lightweight replacement gadget? The Kraftig is another winner from Ubeleben (our choice for the best ferro rod brand) and it's the perfect solution for all your adventuring needs.
Click here for the best prices on Amazon for the überleben Kräftig Fire Starter
13. Feuerstock Ferro Rod
The Feuerstock ferro rod features a carbide striker that throws huge sprays of sparks from the rod. With a protective coating, this ferro rod can last for years without degrading. So no matter how often you use it, it will be ready to start a fire when necessary.
And that bright red coating means it's hard not to find if you drop it. Easy to see, use, and handle — anyone can use the Feuerstock ferro rod. The tool also comes with an online training course (voucher included). So every person that needs to learn how to use it can be trained.
A comprehensive survival device, Feuerstock ferro rods work everywhere, in every environment. Other features include:
Sturdy paracord lanyard for convenient transport
Small (but mighty) construction, easily handled by hands of all sizes
Weighs very little, letting you carry a vital device without extra weight
Non-slip rubber coated handle on carbide striker makes it easy to use
Benefits include:
It's the ultimate tool to have on hand, indoors or outdoors. Use during camping, training, power outages, or any situation that calls for starting a fire quickly
It's a great gift to give anyone because it's made for everyone
Check out the best prices for the Feuerstock Ferro Rod on Amazon.
14. PREPARED4X Survival Torch Fire Starter
The PREPARED4X ferro rod is made to start a fire, efficiently, quickly, and safely. This survival tool uses a unique patented design for optimal function.
Using the highest quality Ferrocerium, one strike is usually all it takes to get your fire going. The steel striker is curved in perfect conjunction with a hemp-based wick to instantly start a fire.
You can also control the fire intensity with this tool. Simply give the wick more slack to increase fire and pull it back to douse it.
The 36-inch starter rope is infused with wax, giving the device three straight hours of burn capacity. For people that only need it for one strike at a time, it will light up for thousands of uses. Starter rope refills are available when it's time for a replacement.
Perfect for any emergency or survival scenario, PREPARED4X ferro rod is also weatherproof. It can withstand heavy water and wind conditions. In fact, this ferro road can be left out in torrential rainfall and still work!
Its design is also ergonomic and easy to handle. It's compact enough to fit into a small bag. So, whether it's an overnight camping trip or a weeklong wilderness trail, this ferro rod travels well.
Click here for the lowest prices on Amazon for the PREPARED4X Survival Torch Fire Starter .
15. Texas Bushcraft Fire Starter
The Texas Bushcraft Fire Starter is a high-octane firesteel that is multi-functional and extremely dependable.
Compact and sturdy, this handy ferro rod fits perfectly into small spaces, making it perfect for any type of haul or travel. With a hardwood handle, it's easy to hold, grip and use.
With the ability to generate 5000℉ sparks, almost anything in its path becomes tinder. Use it to build fires as a defensve measure or just as a source of warmth: . Either way, it's a great tool for survival or emergency situations.
From this small but mighty tool, you can pull 15,000 strikes of fire-starting sparks. A sturdy, built-in lanyard connects to a striker for easy use.
This ferro rod includes a multi-function survival set. You can use it as a ruler, scraper, hex wrench, bottle opener, or even to scale a map.
With 48" of paracord woven throughout the rod handle, it's reliable and durable. There is no need to worry about it rusting or corroding. And you can be sure rain won't stop it from starting a blaze when necessary.
If you get lost, this device has an emergency whistle that you can use to let others know where you are. Stay warm and be found. This ferro rod has everything you need to survive the elements.
Click here for the best prices on Amazon for Texas Bushcraft Fire Starter.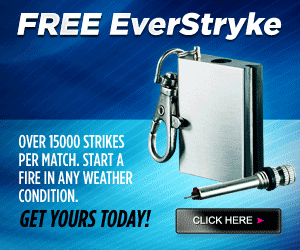 The Everstryke Match is a combination waterproof permanent match and Ferro Rod.
You can use the Everstryke Perma-match just like a traditional permanent match because it uses ligher fluid and a wick.
Or, you can use the built-in Ferro Rod and striker to produce a shower of white-hot fire-starting sparks without lighter fluid. It's your choice.
Here's the best part… You can get the Everstryke Match for Free… Good while supplies last!
Ferro Rod FAQ
Whether you call it a Ferro Rod or a Ferrocerium Rod…
Here are the answers to your most popular questions about Ferro Rods:
What Is Ferrocerium?
Ferrocerium is a man-made alloy that produces extremely hot sparks that can reach temperatures of over 5,000 degrees Fahrenheit (3,000 degrees Celsius) when struck with a metal object like a knife, striker or scraper. The sparks are caused by the rapid oxidation of the tiny Ferrocerium particles thrown off when striking the Ferrocerium Rod with a metal object.
How to Use A Ferro Rod
It's important to use the proper technique when starting a fire with a ferro rod:
Hold the ferro rod close to the tinder at about a 45-degree angle. *
Place the scraper near the top of the ferro rod so it makes solid contact with the rod, just below your hand.
Pull the rod back (away from the tinder) with a slow and steady motion. By pulling the rod back (instead of rubbing the scraper forward) you'll create a spark at the same place. But you'll do it without risking bumping the scraper into your pile of tinder and scattering it all over the place.
*Tip: If you're collecting tinder on the spot, consider pine needles, plant fibers, bird nests, hair, shredded strips of duct tape, even fine strands of steel wool. Or, you can plan ahead by keeping a bag full of dryer lint, cotton ball fire starter balls, or a small tin of Fatwood in your EDC backpack.
Learning how to master the use of a ferro rod as a survival fire starter technique is a survival skill that can save your life in an emergency situation, even if your matches are wet… or your lighter runs out of fluid… which is why a ferro rod fire starter is a must-have survival tool!
What Is A Ferro Rod?
A Ferro rod, also known as a Ferrocerium Rod, is a tool used by campers, survivalists and other outdoor enthusiasts to quickly start a fire without matches. A Ferro Rod looks like a small steel rod, which is probably why some people call it "fire steel". Ferrocerium is a man-made metallic alloy that produces sparks of 5,000 degrees Fahrenheit (or hotter) when scraped with a rough edge like a rock, or a sharp edge like a knife. Ferro rods work without lighter fluid, and can start a fire even when wet.
What Is A Ferro Rod Made Of?
Ferro rods are made of Ferrocerium, which is a man-made alloy of iron, magnesium, cerium and several other rare-earth metals.
The combination of metals creates sparks when the ferrocerium rod (firesteel) is scraped with a rough surface or a sharp edge. And it works under cold, wet, windy conditions that would defeat matches or a lighter.
Some Ferro rods come with strikers. Almost any sharp-edged item will do, even a rock. But you'll get the most consistent sparks from a hard steel object, like the spine of a knife blade.
(Because Ferro rods contain iron, they're often coated to prevent oxidation. You'll need to scrape away the protective coating to expose shiny metal before first use.)
The process of starting a ferro rod fire is like using flint and steel, but with an important difference. Flint and steel produce a spark of about 800 degrees F.
Better quality Ferro rods can produce a spark of 3000 degrees or hotter. That's roughly 30% hotter than a blast furnace and almost 70% hotter than the hottest molten lava.
Is A Ferro Rod Worth Having?
Yes, a ferro rod is worth having as a back-up fire starting tool. Here's why… ferro rods are light weight and don't take up a lot of space in your bug-out bag or backpack, they work even when wet and ferro rods don't require an external fuel source to work (no butane or lighter fluid necessary).
How are Ferro Rods Made?
Ferro Rods are made from a man-made metallic alloy, which is a combination of various metals. The exact chemical composition of a ferro rod varies from one manufacturer to the next, but a typical rod consists of 50% cerium, 25% lanthanum and 19% iron. There are also trace amounts of praseodymium, neodymium, and magnesium. Manufacturers may use a slightly different percentage of each metal, as well as additional materials, in order to alter the spark producing qualities of their Ferro Rod.
How Long Does a Ferro Rod Last?
How long a ferro rod will last depends on the size of the rod, the quality of the composition (softer rods typically don't last a long) and the usage of the rod. A larger rod will generally last much longer than a smaller rod.
A larger rod with a quality composition (at least 20.8% iron and 41.% cerium) and very little usage will typically last much longer than a rod of the same size with poor composition or high-quality composition and high usage.
When choosing a brand one must think about what it will be used for and the durability needed for the job needing to be accomplished. An individual who camps out periodically may not need a high quality or a larger rod because their usage would be low, leading to the rod lasting longer. In contrast, an outdoor enthusiast who frequently needs to start fires will want to opt for a larger, higher quality rod (at least 20.8% iron and 53% cerium) to meet the demands that frequent usage of the rod will bring.
Rods hardened with iron oxide and magnesium oxide tend to create hotter sparks and higher temperature outputs in regards to the fire produced.
Lower quality rods can be identified not only by its lack of iron and cerium but also it's texture.
High-quality rods tend to be hard in texture making it easy to produce a spark when struck against a rough surface, while low-quality rods are soft and require more strikes to achieve the spark necessary to start a burn.
What's the Difference Between Ferrocerium and Magnesium?
The primary difference between ferrocerium and magnesium is that ferrocerium is an actual fire starter while magnesium is not.
Ferrocerium is a synthetic material consisting of various elements (typically 50% cerium, 25% lanthanum and 19% iron) that create sparks when scraped across rough surfaces, whereas magnesium ignites when sparks connect with it and create a long-lasting, extremely hot flame.
Another difference between the two is their temperature outputs. While ferrocerium creates sparks that can exceed 3000 degrees Fahrenheit, the flame created by magnesium produces heat that can reach temperatures over 4000 degrees Fahrenheit.
The two can be used together to create a long lasting fire with intense heat output.
Check out our comprehensive Magnesium Fire Starter FAQ section for more info.
Why Does Metal Spark When Struck?
Metal sparks when struck because when you strike steel with a harder substance it releases extremely small iron particles into the air, and then the iron particles spontaneously ignite when exposed to the air, creating sparks.
Here's how the process works:
Iron is a pyrophoric substance, which means it spontaneously catches fire at relatively low temperature when exposed to air.
All steels contain iron (although some steels contain significantly more iron than other).
When you strike a piece of high-iron-level steel with something like the sharp edge of a knife or a piece of flint or quartz, it causes very small pieces of fresh unoxidized iron to "shower" into the air.
When exposed to the oxygen in the air these tiny pieces of iron quickly oxidize and catch fire, creating a "shower" of sparks.
Are Ferro Rods Waterproof?
Yes, Ferro rods are waterproof and will work when wet, even if you're trying to light a fire in the rain or the Ferro Rod has been submerged under water for days.
Ferro Rod vs Magnesium
Ferro Rods and Magnesium shavings are both used for starting fires, especially in a survival situation. However, the biggest difference between a Ferro Rod and Magnesium is that a Ferro Rod will produce sparks, but it won't burn. On the other hand, Magnesium shavings will burn, but only if you use an external source of fire to ignite them. So, you use Magnesium shavings as tinder for starting your fire, and you use a Ferro Rod to to ignite the Magnesium shavings. That's why most Magnesium Fire Starters include a tool to shave the Magnesium off the block into your tinder pile as well as a Ferro Rod to ignite the Magnesium.
Check out our Magnesium Fire Starter articles for more info.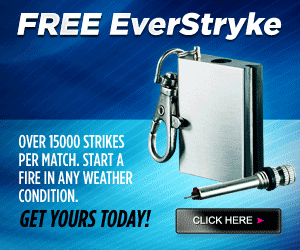 Here's the best part… You can get your Everstryke Match for Free… Good while supplies last!