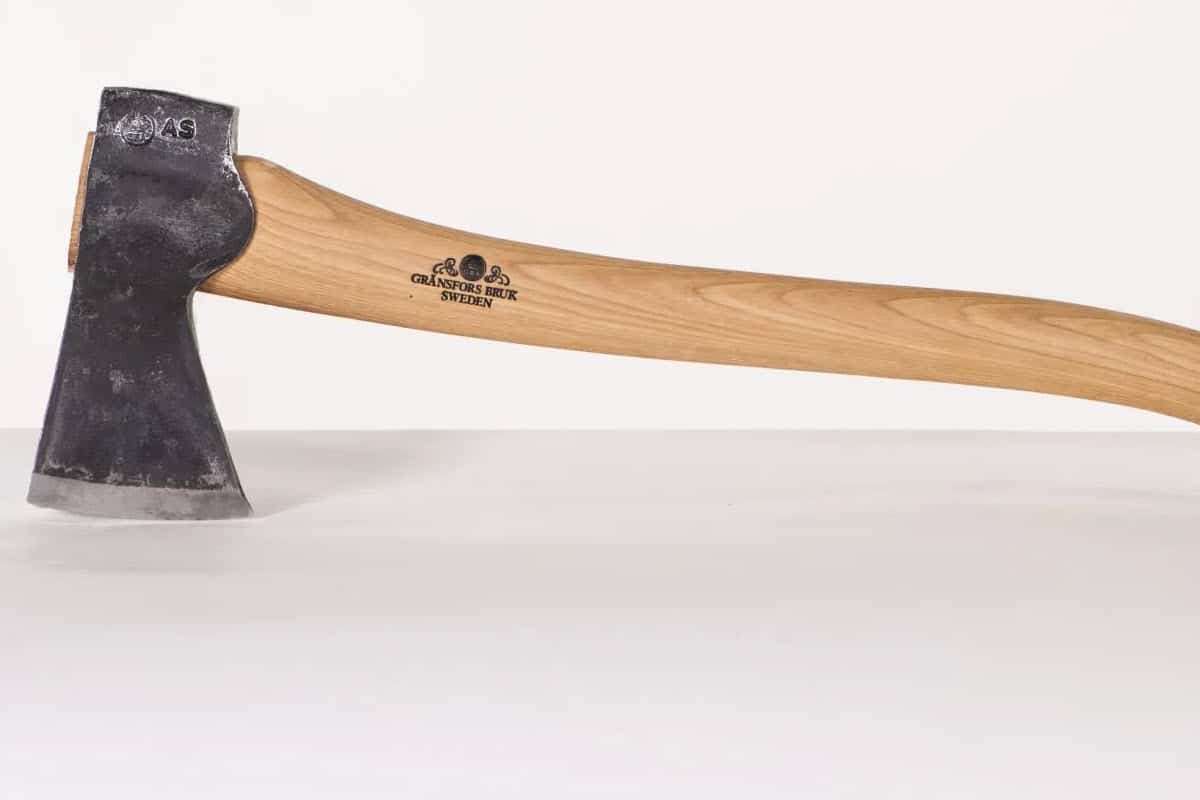 The Gransfors Bruk Small Forest Axe, model 420, is a compact yet powerful tool, expertly forged by Gransfors Bruks of Sweden.
The Small Forest is excellent for a variety of tasks, from chopping wood to splitting small logs.
The Gransfors Bruk arrives with a razor-sharp edge, ready to tackle any task at hand.
Gransfors Bruks Small Forest Axe
Bruks Small Forest Axe vs. Bruks Wildlife Hatchet
The Gransfors Bruks Small Forest Axe and the Gransfors Bruks Wildlife Hatchet are both exceptional tools, each with their unique strengths and purposes.
The Small Forest's longer handle is long enough to grab with two hands, and its larger axe head is designed for heavier tasks such as felling trees, chopping wood, and limbing. Its size provides more chopping power, making it an excellent choice for more demanding outdoor tasks.
On the other hand, the Wildlife is smaller and lighter, making it more portable and easier to handle for lighter tasks such as kindling and small chopping tasks.
Despite their differences, both tools share Gransfors Bruks' commitment to quality and craftsmanship. They both come with a vegetable-tanned leather sheath for protection, and their handles are designed for comfort and control.
In essence, the choice between the Small Forest Axe and the Wildlife Hatchet comes down to the specific needs and preferences of the user.
Well Balanced and Lightweight
This well-balanced design makes the Gransfors Bruk Small Forest Axe not only practical but also reliable.
Despite its robustness, this small axe is still small enough to fit into a rucksack or backpack, making it an excellent companion for outdoor adventures.
Excellent Splitting Axe
The Gränsfors Bruk Small Forest Axe is excellent for felling trees, chopping firewood, and limbing, thanks to its sharp edge and well-balanced design. The axe handle, longer than that of the Wildlife Hatchet, provides better leverage and control.
Leather Sheath Included
Moreover, the axe comes with a vegetable-tanned leather sheath, adding an extra layer of protection and durability. This thoughtful addition safeguards the axe head from potential damage when not in use.
Final Thoughts on the Small Forest Axe
The Gransfors Bruk Small Forest Axe is a well-crafted, efficient tool that offers superior performance and convenience, making it a must-have for any outdoor enthusiast.
Tip: The Small Forest Axe is typically cheaper on Amazon than buying it directly from Gransfor Bruk, plus Amazon offers free shipping as well.
Be sure to check out our Best Hatchet for Camping, Survival and Backpacking post for more hatchet recommendations, or check out our best axes reviews.