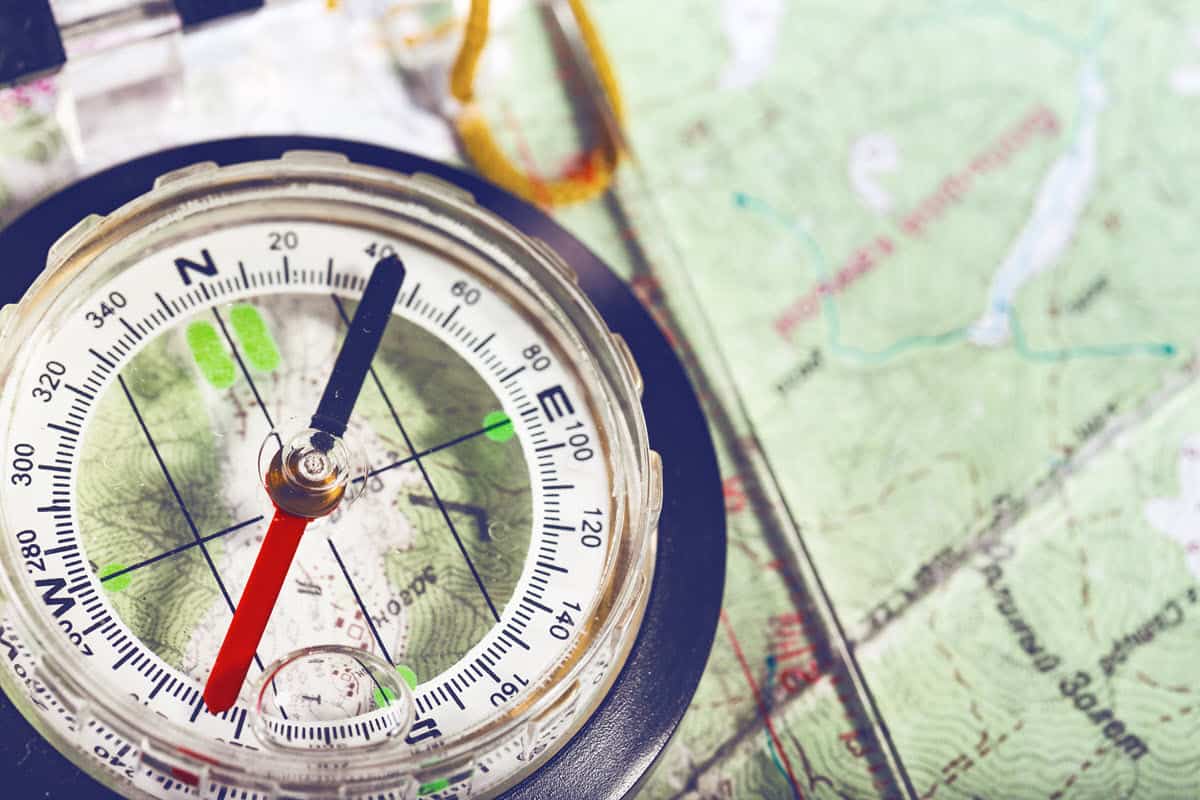 With countless options available, how do you know which features to look for in an ideal orienteering compass?
This comprehensive guide breaks down everything you need to know about selecting the perfect companion for your next adventure.
Key Takeaways
A good orienteering compass should have an accurate and stable needle, clear markings, a rotating bezel, and durable construction for outdoor use.
Advanced features like adjustable declination and a sighting mirror are important for serious orienteers who need more precise navigation skills to compete effectively.
When selecting the perfect compass, choose quality brands like Suunto that offer excellent visibility features such as luminous markings or transparent baseplates.
Always prioritize easy-to-read markings over those with cramped designs or inferior visibility; this simple consideration can greatly enhance your overall experience out in the great outdoors.
Key Features Of Good Orienteering Compasses
Higher-quality orienteering compasses have an accurate and stable needle, clear and easy-to-read markings, a rotating bezel for easy navigation, and durable construction for outdoor use.
Accurate And Stable Needle
A key component of any good orienteering compass is an accurate and stable needle. The compass needle serves as your primary guide to magnetic north, ensuring you stay on course during your outdoor adventures.
To achieve optimal accuracy and stability, many high-quality orienteering compasses feature liquid-filled housings that help dampen the motion of the needle, allowing for steadier readings even when not held perfectly still.
Additionally, the red end of the needle should be sharply pointed and highly visible against the background markings for easy identification while navigating at a glance.
As an example, Suunto's line of compasses is well-regarded within the outdoor community for their precision-engineered needles that provide consistently accurate bearings in various environments.
Clear And Easy-to-read Markings
Clear and easy-to-read markings on an orienteering compass are essential for survivalists and outdoor enthusiasts alike.
One example of a compass with excellent visibility features is the Suunto MC-2, boasting luminous markings that provide enhanced readability in low-light conditions. The transparent baseplate also allows users to view their map without obstruction while navigating through unfamiliar terrain.
In addition to being useful when determining bearings and distances, these clear markings can make all the difference in situations where every second counts – like escaping a storm or locating water sources before nightfall.
A rotating bezel, sometimes referred to as an azimuth ring, is a crucial feature of any good orienteering compass. As survivalists and outdoor enthusiasts well know, the ability to navigate efficiently in unfamiliar terrain can mean the difference between reaching your destination safely or getting lost in the wilderness.
For example, suppose you're hiking through a dense forest and need to chart a course toward a distant landmark visible on your map. To do this, you would place the edge of your compass baseplate along the desired path on the map while making sure that North on the compass lines up correctly with magnetic north.
Next, turn the rotating bezel so that its orientation arrow (or index line) matches up with both ends of your intended route.
Durable Construction For Outdoor Use
A key feature of an orienteering compass is its durability for outdoor use. When you're out in the elements, your equipment needs to withstand whatever nature throws at it.
A quality compass should be able to handle rough terrain and extreme weather conditions without breaking or malfunctioning.
Additionally, high-quality orienteering compasses are designed with waterproof housings that prevent damage from moisture and humidity. The housing should also provide protection for the delicate needle mechanism inside.
Ultimately, having confidence in your gear is a crucial factor when navigating through unfamiliar territory, including Survival Backpacking or just taking a Day Hike.
Advanced Features For Serious Orienteers
For those who take orienteering seriously, advanced compass features like a global needle for worldwide use, adjustable declination for precise navigation, and a sighting mirror for accurate bearings are essential tools to ensure safe and efficient navigation.
Global Needle For Worldwide Use
For those who love extreme adventures in different parts of the world, a compass with a global needle is essential. This type of needle works anywhere on Earth, including the equator and Southern Hemisphere.
A global needle ensures that your orienteering compass will accurately point you in the right direction no matter where you are in the world. This feature allows for more versatility and convenience when traveling abroad or exploring different regions.
Another important feature that a good orienteering compass should have is adjustable declination. This feature allows for precise navigation when taking bearings, especially in areas with magnetic anomalies.
Declination refers to the difference between magnetic north and true north, which can vary depending on location.
For example, if you are hiking in an area with a declination of 10 degrees east, your compass needle will point slightly to the right (east) of true north. To adjust for this, you would turn the North arrow on the bottom of your compass capsule until it aligns with the correct degree of declination indicated by your map or other navigational tools.
Adjustable declination is particularly useful for serious orienteers who need precise navigation skills to compete effectively.
Sighting Mirror For Accurate Bearings
A sighting mirror compass is a must-have for any serious orienteer or survivalist. This feature enables you to view both the compass housing and the background at the same time, making it ideal for taking accurate bearings toward distant landmarks.
Some sighting mirrors also have notches to make precise navigation easier. For instance, if you need to move towards an object in the distance, align your sighting mirror with the object and rotate your body until the magnetic needle aligns with North on your dial.
When it comes to orienteering, choosing the right compass is crucial for safe and accurate navigation. A good orienteering compass should have an accurate and stable needle, clear markings, and a rotating bezel.
For serious orienteers, advanced features like adjustable declination and a sighting mirror are important. Remember to select a durable construction suitable for outdoor use.
Make sure you choose a quality orienteering compass with all the necessary key features for successful map reading and navigation in unfamiliar terrain.
Check out our Survival Backpacking and Day Hike Checklist posts