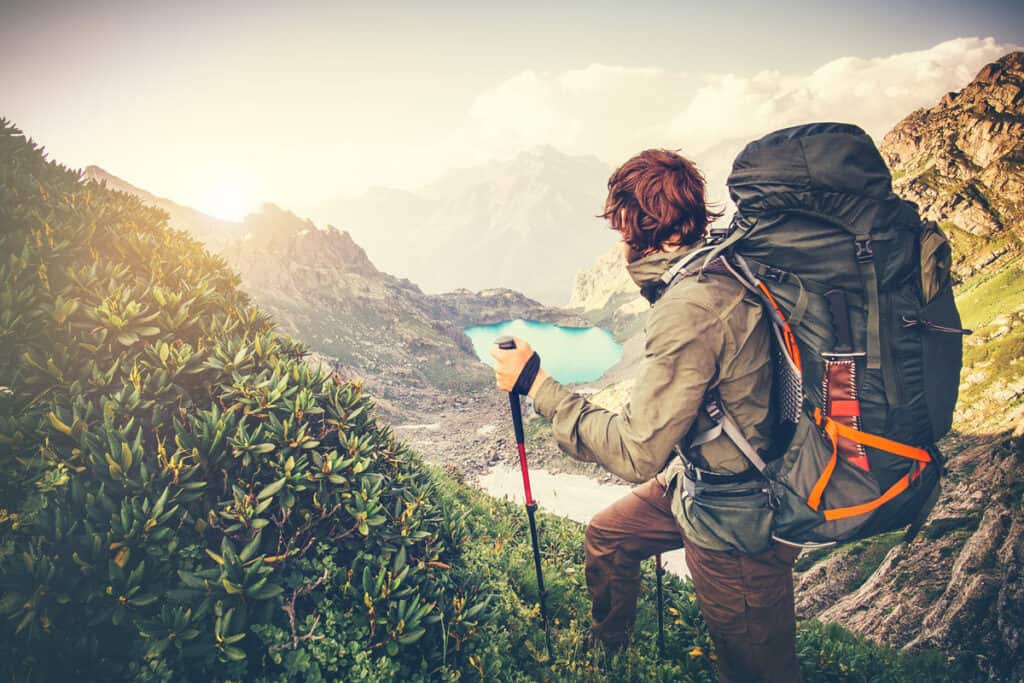 You might imagine that backpacking and camping are one and the same, and end up taking a shot at backpacking without proper planning or the necessary survival skills.
That said, hiking in the wild is much more difficult than car camping. It's essential that you plan, and that you account for a number of variables.
A successful trip can be one of the most meaningful experiences of your life, while an unsuccessful one can put you in a dangerous survival situation that requires some serious outdoor skills to survive .
So, here's a list of some of the most important survival skills and safety tips that you consider before you begin your trip…
1. Research The Area
Before taking trips into the wild, even if we're just talking day hikes, you have to understand the terrain you're dealing with. Get very familiar with a map of the area and understand the risks that it poses. It may be a good idea to spend some time brushing up on your compass skills as well.
Look for areas that would be comfortable and safe to set up camp, as well as areas that might be dangerous for you to enter. Make note of factors like rivers and streams that can give you a good point of reference as you hike. Running water can also be useful to top up your water bottles (how to live on collected dew in an emergency is one of the classic survival skills, but what a hassle).
This aspect can feel tedious and needlessly time consuming, considering the fact that you'll have your cell phone with you. That said, cell phone service cuts off in remote areas, and then you won't have the ability to navigate out using Google Maps. Sure your map will ping your GPS location, but that can't offer much information in the wilderness.
So, get your bearings for the area you're entering. Plot your trail and make clear notes about things that will help you navigate if you get lost at all.
2. Learn About Local Wildlife
Look into the wildlife that exists in the area. Find out whether you'll be trodding along next to animals and plants that are generally kind to humans.
It's wise to know if there are large predators in the area you'll backpack through. Fortunately, areas that are home to things like black bears and mountain lions are still safe to hike through. If bears and mountain lions were human hunters, national parks would be much more terrifying places.
These animals, even wolves, are rarely interested in hunting humans down. They generally prefer to avoid conflict. That said, they will defend themselves and they're better fighters than we are.
Animals will sometimes attack if they're provoked, startled, or starving. You can avoid conflict with wildlife if you know how to make yourself known. There are also helpful guidelines on what to do if you encounter respective animals. And it doesn't hurt to have some bear spray on hand, just in case.
So, while you don't need to feel threatened by animals in the wild, it's important to have a healthy appreciation of their presence.
3. Monitor The Weather
The weather might seem unpredictable in the wilderness. Things change fast, and most of those times those changes are pretty harmless.
You might get brief patches of rain or snow while you go about your way. That said, extreme shifts in temperature or wind speed are more dangerous when you're in the wilderness. All you've got are your pack, your tent, and whatever shelter you can find.
The best bet is to keep a close eye on the forecast before you head out. It's also a good idea to start thinking about indications that conditions will change. If you can understand the warning signs of shifts in environmental conditions, you can keep yourself safe and dry.
Part of that process is understanding the terrain you're hiking through. Make mental notes of places where you will take shelter in case of an extreme weather emergency or other natural disasters.
4. Bring Shelter and Warmth
Unless it's just a day hike, the most important part of your packing process is to include a place to sleep that will keep you warm. The difficulty is that those things have to be light, as you'll be carrying them on your back all day.
It's unwise to bring a large tent. There are small, light weight tents for backpackers, but it's also possible to stay dry with only a temporary shelter improvised with a tarp that covers your sleeping bag.
The sleeping bag you choose to pack with your gear is the most important thing in terms of warmth. Explore lightweight sleeping bags that retain a lot of heat. Most importantly, ensure that the bag you buy is rated for the climate you'll be in.
If it's very cold, you may want to get your body temperature up before bedtime by doing some exercise. And, of course, it's good to know how to build a campfire.
It's also wise to carry pads that sit between your sleeping bag and the ground. Pads help you stay warm by insulating the heat produced from your body against the cold, wet ground.
5. Bring Effective Cooking Utensils
This isn't the time to bring your old cast iron camping pot that you use when car camping, keep it light.
Traveling light requires that you have an efficient way to cook food that doesn't take up too much space. Look for campfire cooking equipment options that serve multiple purposes and are simple to use. For example, a cooking cup that also serves as a bowl is a great choice.
You don't need too much in the way of utensils, but you have to make sure that you're able to boil water somehow. You can also adjust things depending on the type of food that you bring along.
Your best bet is to practice cooking with these utensils on an open fire before you head out. This will give you an idea of how well-prepared you are and whether you need to run out and grab other cooking gear.
6. Plan Your Meals
Backpacking requires that you have a healthy appreciation of the state of your body, your metabolism, and what you're eating. Our normal lives don't reveal the flaws of our diets like hiking does.
You're outside expending energy all day, so you'll feel the energy that your diet provides, and you'll feel when that energy starts to go away. Another difference between wilderness and normal life is that you put yourself in danger when you don't have energy.
Wilderness camping and hiking require that you're expending energy to accomplish certain tasks. You need to make a shelter and you need to make a fire, for example. You need calories to have the energy to do those things.
So make sure that you pack enough food to get you through the whole trip. Ensure that it is nutritious and won't slow you down at all. You'll need protein, sugar, some carbs, and enough of them to get you through your journey.
Tip: The types of food that you use for prepper food storage are the same types of food that is perfect for survival backpacking.
7. Practice Fire Building
Making a fire is easy sometimes, and very hard at other times. We're usually able to throw a few logs into a fire pit, grab some fast burning fuel as kindling, and start a fire.
It's a different story when you're in the wilderness facing a serious survival situation, though. One of the basic wilderness survival skills is how to build a camp fire using materials gathered in the wild.
You might have to forage to find the proper fuel wood, in which case you'll want to have learned about the best hatchet for any job.
Try to work on building a fire from scratch before you head out. If you're so inclined, it could also be helpful to try doing so without the use of a lighter or match. Definitely carry a supply of lighters and matches on your trip, but you should learn how to start a fire without matches in case you end up without your survival gear.
8. Get Into Shape
You need to understand that a backpacking trip is about more than learning a few outdoor skills — it's also an arduous thing to go through. It's enjoyable, like any trip, but it's hard work.
Your body has to be ready to go through that process. If you're not in any kind of shape to hike for a few days with very little time to relax, you should work on changing that before your hiking trip.
It's not like you're running a marathon, but there's a level of endurance and physical fitness involved with the whole survival backpacking process. Start hiking in your local state parks and consider doing some running to get your body in the best shape possible. If you can sprint for a half mile, you'll know you're in good condition.
9. Optimize Your Survival Backpack List
Make sure that you have everything that you need and start to strip your back down to the essentials. The lighter your survival kit backpack is, the easier your trip will be on your body.
That said, you can't go into the wilderness without things like a first-aid kit, or a sleeping bag. Ensure that you've got what you need, and double-check that you haven't missed anything.
Here's a sample list of gear to pack that will give you some ideas and get you started:
drinking water
map
signal mirror (to signal for help)
headlamp
sunscreen
basic first aid kit (including pain relief tablets and topical antibiotics to prevent infection)
first aid guide to treating common injuries
insect repellent
spare batteries (for when those headlamp batteries die)
knife
tent or tarp
trekking poles (not necessary, but nice to have)
duct tape
fire starting kit (e.g., ferro rod, cotton balls, waterproof matches, tinder, survival lighter, etc)
drinking water
emergency blanket
fishing line
water bottles
water purification tablets for clean water
food
spare clothing
cooking gear
Waterproof Matches and a free Everstryke Pro Perma-match
And here's a customizable day hike checklist that's also very helpful for supplying your survival backpack.
10. Let Someone Know
Another important thing to add to your backpacking trips to-do list is to make sure that somebody knows your full course. In the case that you get lost or stuck for some reason, it's good to know that there are people out there who know where you are.
It's unlikely that this would happen, but there's always a chance that a person gets lost in the wilderness. It's hard to search a massive area like that, so narrowing down the area to your intended route makes things a lot safer for yourself.
Letting someone know where you expect to be may not sound like it belongs on a list of wilderness survival skills, but it can save your life.
Want to Learn More Wilderness Survival Skills?
Survival backpacking isn't easy, but it can be one of the most meaningful things you ever do. You just have to be sure that you're prepared and knowledgeable about what you're entering into and how to stay safe.
Backpacking in the wilderness isn't easy, but it can be one of the most meaningful things you ever do. You just have to be sure that you're prepared and knowledgeable about what you're entering into and how to stay safe.
So, be sure to check out our other articles about choosing the best survival gear and learning the most important survival skills