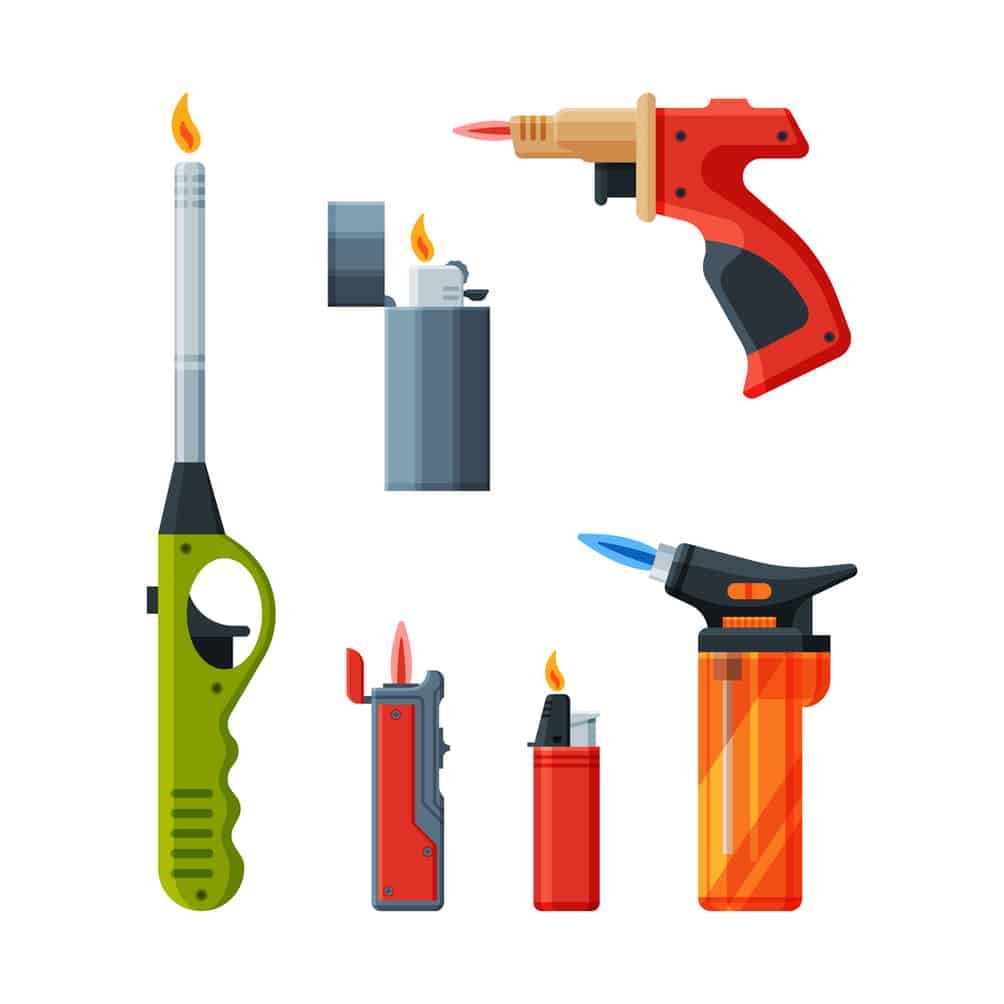 Refilling a butane lighter can be tricky without the right knowledge. Did you know fuel dilution inside your lighter may occur if the air is unintentionally injected during refilling? This blog post equips you with step-by-step instructions on how to refill butane lighters, effectively avoiding common issues such as unwanted air inclusion.
Key Takeaways
Purging the lighter before refilling is crucial to remove air and old fuel, ensuring efficient and safe refilling.
Inject the butane by aligning the refill can's stem with the lighter's valve. Shake it beforehand for better fuel transfer. Press down firmly for about five seconds while keeping both items upside-down to prevent air inclusion.
Test your lighter after refilling by igniting it. Adjust the flame gradually for optimal functionality. If difficulty igniting or inconsistent flammable production occurs, repeat purging and refilling steps to avoid air-diluting fuel within the lighter.
Steps to Refill a Butane Lighter
To refill a butane lighter, first purge the lighter by pressing the valve with a small tool until no hissing sound is heard. Next, insert the stem of the refill can into the valve and press down firmly for about 5 seconds to inject butane fuel into the lighter.
Finally, test the lighter by igniting it to ensure proper refilling.
Purging the lighter
Purging a butane lighter is an essential initial step in the refueling process. This removes lingering air and old fuel from the tank, allowing for efficient and safe refilling.
To begin this portion of your refill journey, turn your flame adjustment wheel to its lowest setting – a critical move to ensure safety and prevent unwanted ignition. Next, utilize a small screwdriver or similar tool to press down on the filler valve, allowing existing air and any residual gas to escape.
You'll know it's successful when you hear a hissing sound as materials are released from the chamber. Be sure not to rush through this task: take time until no more hissing is heard before adding fresh butane into your emptied lighter compartment.
Injecting the butane
Injecting the butane into your lighter correctly is a key step in the refilling process. The action involves aligning the stem of your refill can with the refill valve on your butane lighter.
Make sure you shake the refill can before commencing, as this will facilitate better fuel transfer.
Once positioned correctly, press down firmly for approximately five seconds – a trick known to ensure an optimal refilling experience. It's recommended that you perform this task with both items upside-down; this orientation prevents air from entering and diluting your fuel supply during refills, which could impact the lighter's performance.
Follow these steps to refill a torch lighter with butane or any other type of butane lighter safely and efficiently.
Testing the lighter
In the final step of our butane lighter refilling process, we aim to ensure proper operation with a test. Initiating the ignition mechanism releases a steady flame if correctly filled – an immediate visual confirmation.
It's essential to adjust your lighter's flame adjustment wheel gradually towards increased settings until you reach optimal functionality, ensuring top-notch performance every time you ignite.
Take caution post-refill, as the strength of the first few flames may surprise! Remember that any difficulty in igniting or inconsistency in flame production might indicate air-diluting fuel within your lighter, necessitating another round of purging and refilling for optimal results.
Refilling butane lighters often gives them a new lease on life, making this easy maintenance task invaluable.
Check out our post: Which Survival Lighter Belongs in Your Bug Out Bag?
Tips and Safety Precautions
There are several important tips and safety precautions to remember to ensure a safe and successful butane lighter refill. First, always make sure the lighter is completely cool before attempting to refill it, as refilling a hot lighter can cause accidents or injuries.
Additionally, working in a well-ventilated area is crucial to avoid inhaling fumes during the refilling process.
When purging the lighter before refilling, be cautious of any residual flames or sparks that may ignite escaping gas. Remove any possible heat sources or open flames from your immediate surroundings to prevent accidental ignition while injecting the butane.
To avoid injury and ensure proper functioning after refilling, follow the manufacturer's instructions regarding fuel capacity limits for your specific model. Overfilling can cause leaks or damage the internal mechanisms of the lighter.
It is also essential to use high-quality butane fuel specifically designed for lighters. Substandard fuel may contain impurities or lower-quality ingredients that can clog valves or damage your lighter over time.
Lastly, take all necessary precautions when handling flammable materials such as butane. Store extra fuel cans securely in a cool place away from direct sunlight, and never use excessive force when activating the refill valve.
By following these tips and safety precautions, you can confidently refill your butane lighters without compromising your own safety or damaging your valuable equipment.
Common Problems and Solutions
Common problems that may arise when refilling a butane lighter include:
Insufficient fuel: If the lighter does not produce a flame or the flame is weak, it may be due to insufficient fuel. To solve this problem, simply refill the lighter with butane, following the steps outlined in the previous section.
Air bubbles in the fuel tank: Sometimes, air bubbles can get trapped inside the fuel tank during refilling. This can cause inconsistent flame or difficulty igniting the lighter. To remove air bubbles, gently tap the bottom of the lighter on a hard surface to allow them to rise to the top. Then, release any excess gas by purging and refilling again to ensure a proper mix of fuel and air.
Leaking butane: Leakage of butane from the refill valve can occur if it is not properly closed after refilling. To prevent leakage, make sure to securely close the valve and double-check for any signs of gas escaping before using the lighter.
Clogged burner nozzle: Over time, debris or residue can accumulate on the burner nozzle, obstructing proper fuel flow and affecting ignition. To fix this issue, use a small pin or needle to carefully clean out any clogs in the nozzle. Be cautious not to damage or bend the nozzle in the process.
Check out our post: How To Start A Fire With Wet Wood
Conclusion
Refilling a butane lighter is a simple process that can be done in just a few steps. By properly purging the lighter, injecting the butane, and testing its functionality, you can ensure a quick and efficient refill.
Remember to follow safety precautions and troubleshoot any common problems that may arise. With these tips in mind, you'll be able to keep your butane lighters fully charged and ready for use without any hassle or complications.
You might also be interested in How To Start A Fire Without Matches
Bestseller No. 1
Zippo 65827 Butane Lighter Insert – Double Torch, 1.4″L x 0.5″W x 2.1″Th
Genuine Zippo Single Torch Insert; Push-button piezo ignition
Adjustable blue flame height; Heats up to 2,300°F/ 1,260°C
Refillable with butane fuel; 0.9g fuel capacity
Fits all Classic Zippo lighter cases – Does not fit Slim, Armor or 1935 Replica cases
Insert retains the famous Zippo "click" sound
Sale
Bestseller No. 2
Sale
Bestseller No. 3
Torch Lighters, 4 Pack, Butane Lighters, Adjustable Flame Windproof Butane Refillable Gas, Long Lighters for Candle, Grill, BBQ, Fireworks, Camping (Butane Not Included)
WINDPROOF TORCH LIGHTER: Wind-Resistant Technology will Protect the Flame from being Blown Out by Strong Wind under Heavy Weather Making it Ideal to Light Outdoor Items such as Grills, Lanterns, Camping Fires,Fireworks, Pilot Lights.
ADJUSTABLE&REFILLABLE TORCH LIGHTERS: An Adjustable Flame Knob on the End of the Mini Torch Utility Lighter Lets you Easily Control the Flame Height, Providing Extra Flame Height when Needed. Refillable Lighter, Reusable Lighter.
VISIBLE FUEL LEVEL WINDOW: This Mini Pen Torch Lighters has 2.8g Capacity Gas to Ensure Long Last Using. With Visible Fuel Level Window, Which Will Remind you When your Lighter Needs to Refill and Check the Status of Butane Refilling.
SAFE AND RELIABLE LIGHTER: This Butane Torch Lighter Nozzle with Copper Material was Designed for Supporting Continuously Flame and Longer Using Times, Cooling Hole and Ceramic Port Was Designed For Maximum Heat Dissipation to Prevent Damage Caused by High Temperature.
MULTIPURPOSE LIGHTER: 6 inch Butane Lighter, SIZE:6.03 x 0.79 x 0.79 inches, Weight: 2.04 OZ, Compact and Portable, Perfect for your Indoor Activities. Suitable for Lighting Candles, Gas Stove, Oven, Hob, Tealight.