Don't get stuck in the great outdoors without the cooking equipment you need to prepare yourself a meal.
Whether you're planning a survival backpacking trip or just heading for the camping grounds, it's important that you have the right campfire cooking equipment. You don't need to make sacrifices in the variety and quality of the meals that you make while you're camping if you have the right campfire cooking tools.
There are many great types of equipment that you can use to prepare a variety of meals, from freshly caught fish fillets to hot dogs. If you want to find out more, read on and we'll cover all the camp kitchen essentials, from the grill grate cook stand to the dutch oven.
An Ideal Campfire Cooking Equipment Setup
Pretty much any campground that you visit will have firepits with a grill or a campfire cooking grate that are already installed, and there's not much you need to do to start using them. All you'll typically need to think about in that case is bringing along the right cookware, and maybe some fatwood to get the fire started.
However, you shouldn't assume that every campground will have an available fire pit with a grill grate. There are also situations, such as if you're backpacking in the wilderness, when you need to have your own campfire cooking setup.
Campfire Cooking Grate or a Grill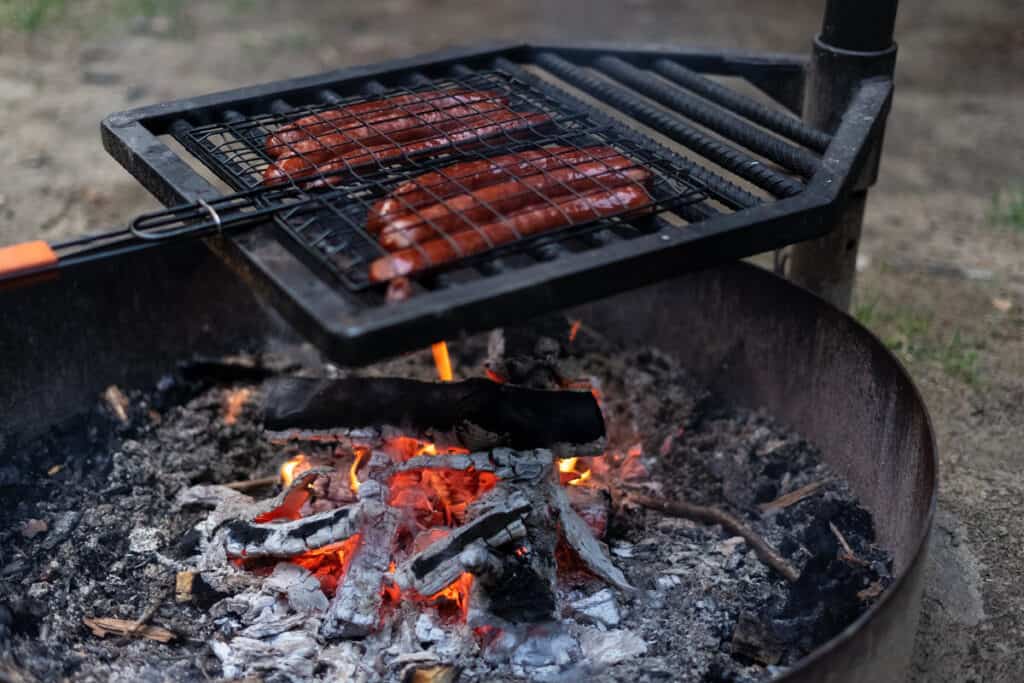 If you're out on a road trip and camping in your car, this is a great thing to have. Many people who set out on canoe trips also like to bring their own grills or grates. You should try to find one that is compact and that can be folded up so that you can store it in a space-efficient way with the rest of your gear.
Get the best price available for Campfire Cooking Grates and Grills on Amazon, or check them out on eBay.
A Campfire Tripod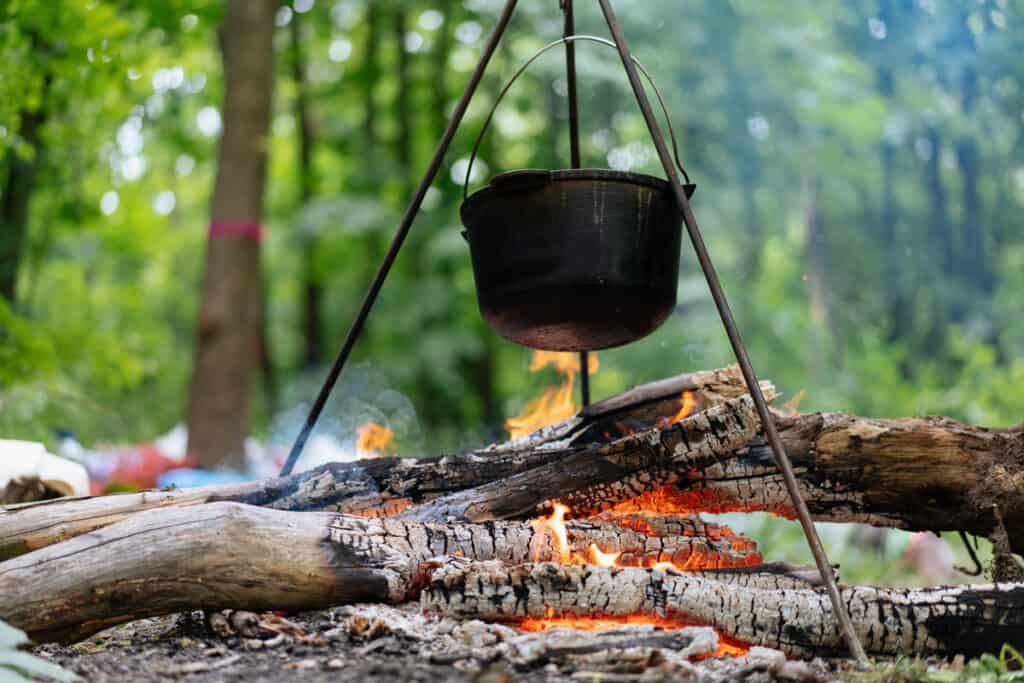 Depending on what kind of tripod you get, these can be great to bring on hiking trips or fishing trips. Even if you get a larger model, you can easily fit a cooking tripod in the back of your car during road trips.
Campfire tripods are a go-to pick for those who like to make lots of stews or meals that need plenty of time to simmer at low temperatures in a cast iron pot or dutch oven. They are also ideal for cooking meals that you don't want to spend energy tending to. As long as you keep your campfire burning, you can just hang pots from your cooking tripod over some hot coals and forget about it while your meal cooks.
Get the best price available for Campfire Tripods on Amazon, or check them out on eBay.
Rotisserie Grills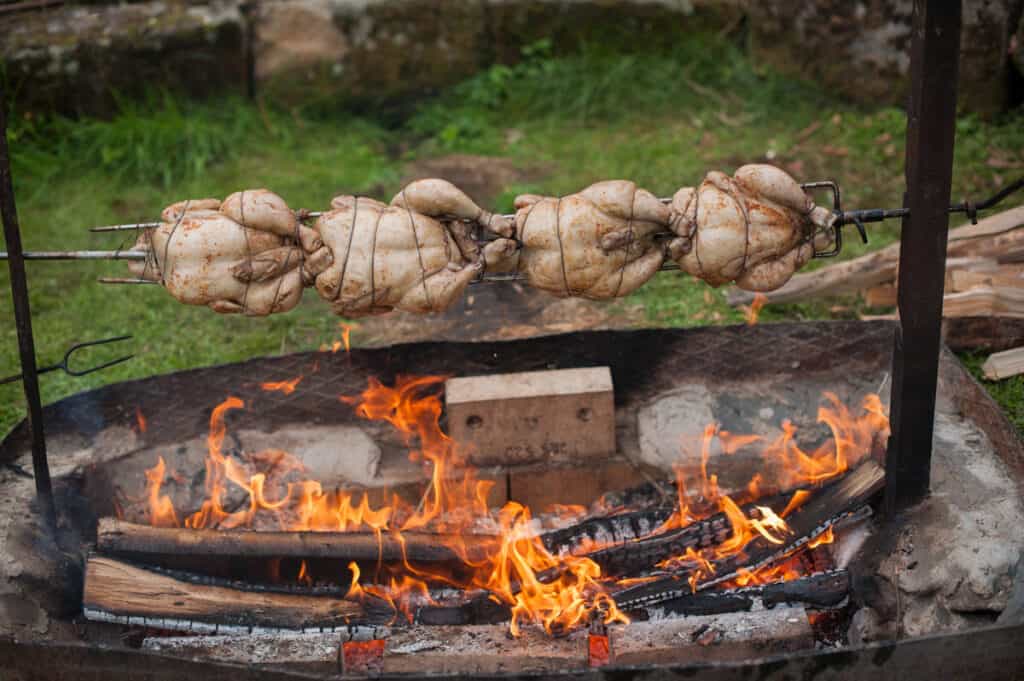 If you are a meal-lover or barbeque fanatic, then it's possible that you'll want to have a rotisserie grill or a spit to cook on the fire. Since you'll have a hard time finding portable rotisserie grills, you should only consider using them if you don't have to carry them around.

Get the best price available for Rotisserie Grills on Amazon, or check them out on eBay.

Starting a Fire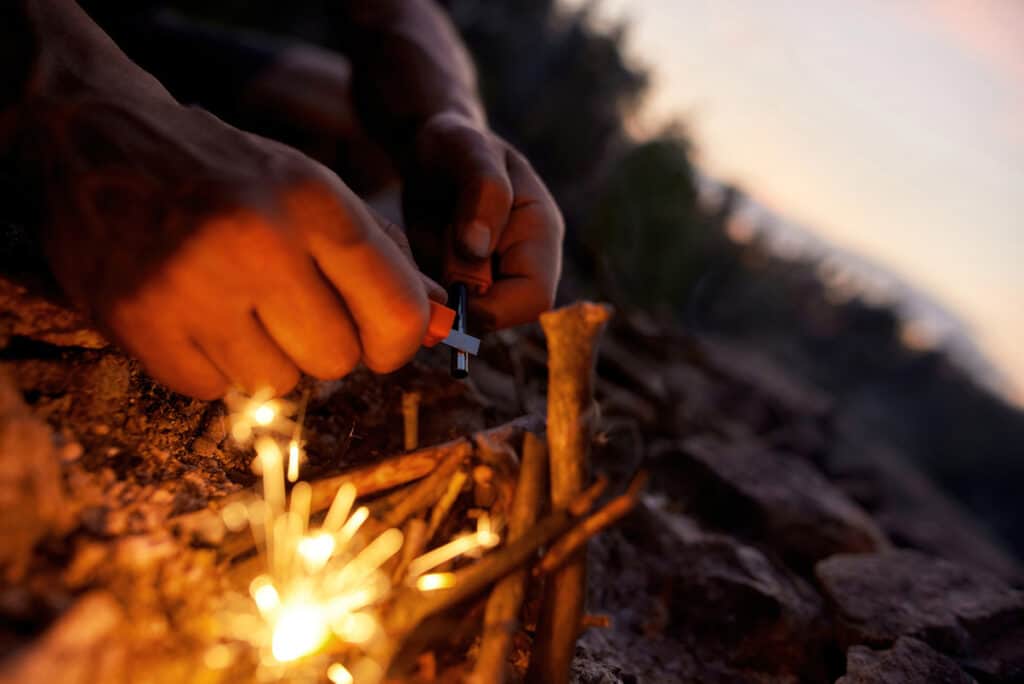 One of the most enjoyable parts of camping is campfire cooking: being able to whip up a tasty meal with your favorite cast iron cookware over an open fire. This is why campfire cooking is easily one of the more rewarding camping skills to master.
But in order to do that you'll need a fire. If you're not sure how to build a campfire, keep in mind that it's an easy thing to do once you understand the five basic steps.
No matter what kind of situation you'll be in, it's important that you're able to quickly get your campfire started without fuss. Though it is usually possible to start a fire by using matches or a lighter, they become useless if they get wet or run out of fuel.
So do yourself a favor and get an Everystryke Match. Not only is this permanent match dependable, but it is also free while supplies last.
Another great option would be to use a ferrocerium rod to start your fire without matches. Here's a list of the best ferro rods.
Best Options for Cookware
Once you've figured out the right cooking setup for campfire cooking, the next category of campfire cooking equipment you need to think about is cookware. Whether you're looking for a compact one-person backpacking setup or for a large pot to feed your entire family, here are several types of equipment that you should consider using.
A Dutch Oven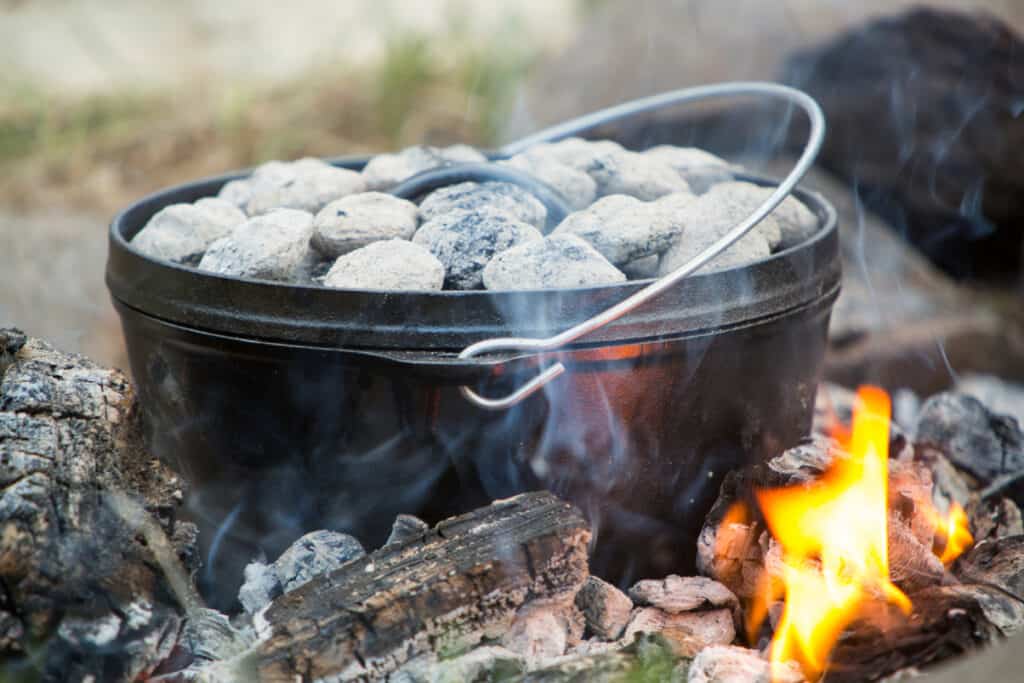 If you like to camp out and cook with large groups, you can't go wrong with bringing along a dutch oven. Since it's such a versatile piece of equipment, it's a great tool for professional or amateur chefs who want to impress their friends by cooking complicated meals.
The advantage of Dutch ovens, other than being large enough to cook big meals, is that the lid retains heat and reflects it back to the oven contents for quicker and more even cooking.
With a little practice, you can control their temperature like you would do with an oven. Having one allows for many more cooking options, but you've got to have the right knowledge of how to use it.
Get the best price available for Dutch Oven on Amazon, or check them out on eBay.
A Cast Iron Skillet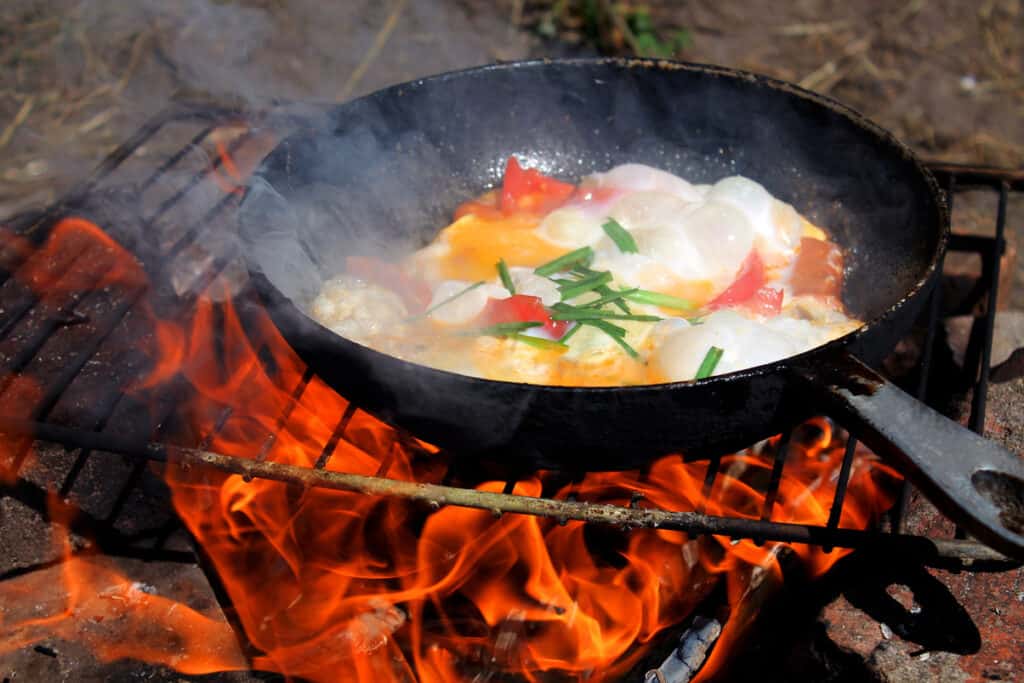 The cast iron skillet is a tried and true classic, but since it is so heavy, it's best to use on a car camping trip or when you're cooking in your backyard. You can use a cast iron skillet to prepare dishes such as fried potatoes, scrambled eggs, or grilled cheese sandwiches.
If you want your cast iron frying pan to last you a lifetime, make sure you take care of it by cleaning it properly and by conditioning it after use.
Get the best price available for Cast Iron Skillets on Amazon, or check them out on eBay.
Lightweight Campfire Cookware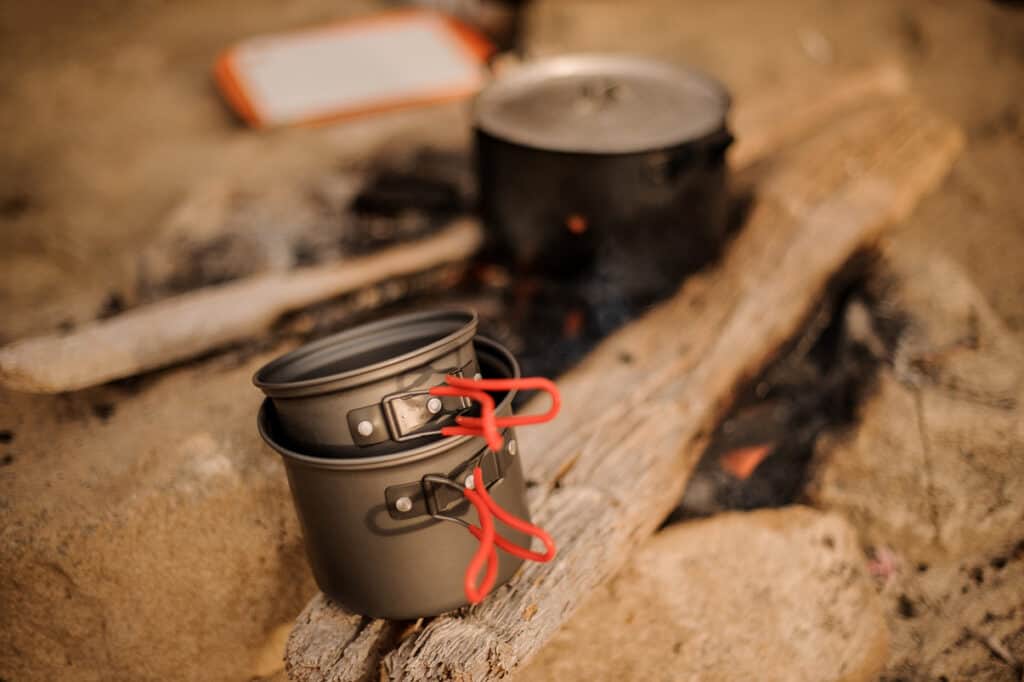 If you'll be setting out on a backpacking trip, one of the most important camping tips is to only choose lightweight gear. You don't want to find yourself exhausted out in the middle of the wilderness because you've brought along too much gear. In that case you'd want to leave the dutch oven at home.
By packing lightweight and compact campfire cookware, you'll cut down on lots of unnecessary weight and packing space. There are many kits that you can buy which include several pots and pans which weigh next to nothing and nestle inside of each other.
If you're aiming for a simpler option, you can simply opt to find just one small pot to bring for cooking all of your meals.
Get the best prices available for Lightweight Campfire Cookware on Amazon, or check on eBay.
A Kettle for Coffee and Tea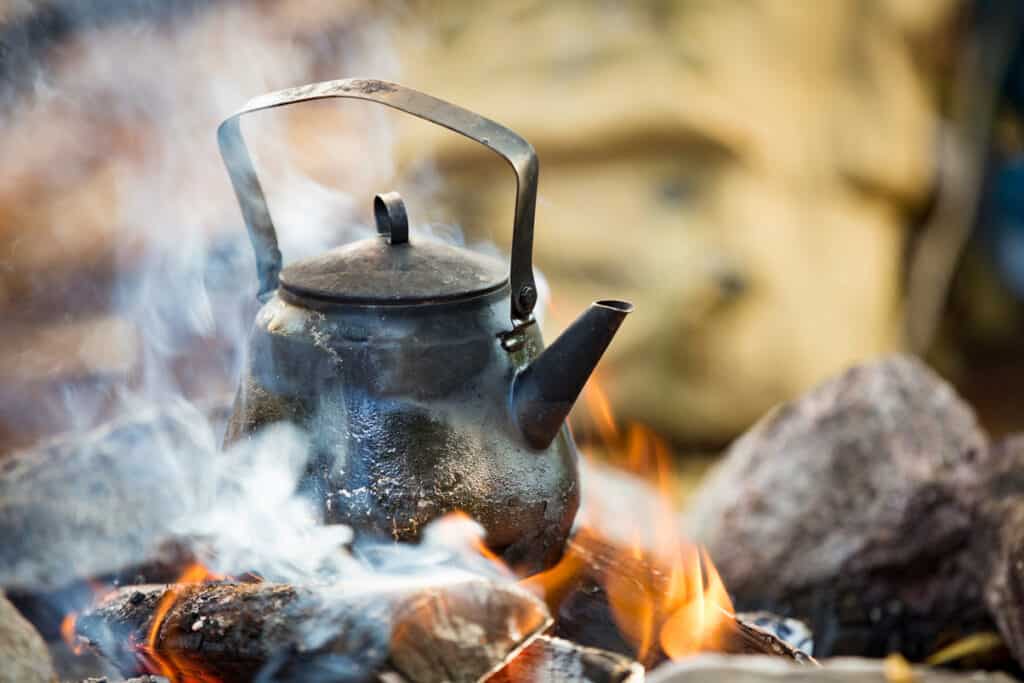 If you're the type of person who likes to have the fire or camping stove going all day long, having a kettle around is never a bad idea, especially in the wintertime. You can use it to make sure that hot water is always available for anybody who wants to warm themselves up with a hot tea or coffee.
You can choose to invest in a more conventional and basic model, or you can buy a model that includes extra features such as a built-in coffee filter.
Great Campfire Utensils and Tools for Cooking
If you have experience with campfire cooking, you probably already know how much easier food prep becomes when you have the right utensils to work with. Sure, you can roast marshmallows or toast bread with a wooden stick. But you might prefer the more hygienic and non-flammable stainless steel skewer.
You should try to find cooking tools and utensils for your camp kitchen that are longer than average so that you don't have to worry about getting too close to the fire. You should also try to find tools that have wooden handles if you don't want to burn your hands.
Tongs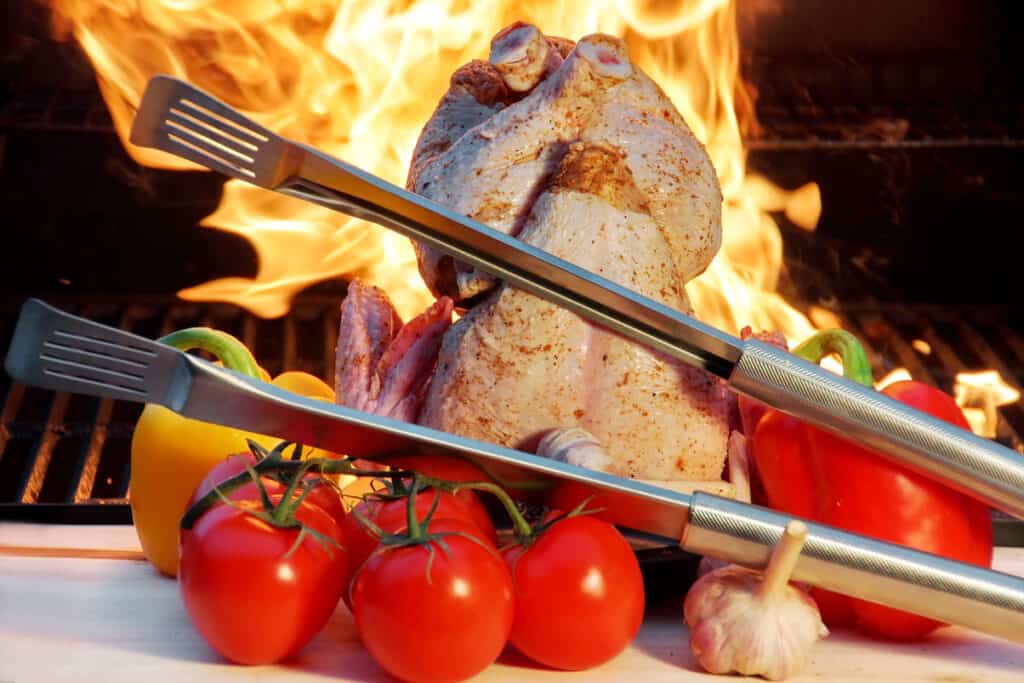 Not only are these helpful for doing things like flipping vegetables and chunks of meat, but you can also use them to position coals or pieces of wood within your campfire. These inexpensive utensils are essential for anybody who is serious about cooking meals over an open flame.
Wooden Spoons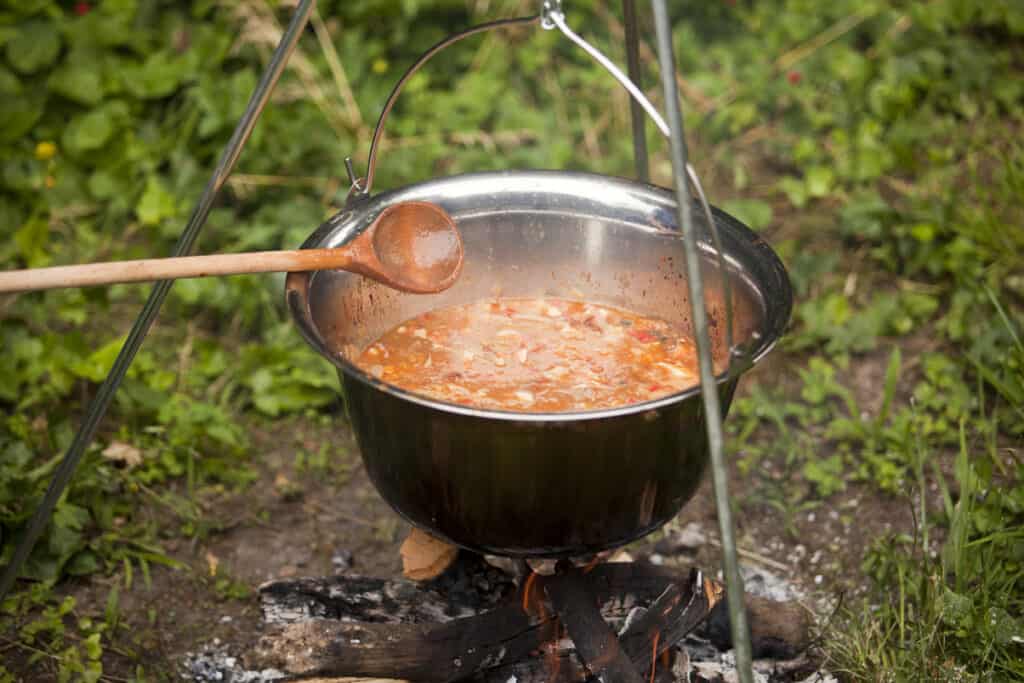 Spoons will be helpful for you to have if you have dishes that you need to stir. It's a much better option to use wooden utensils instead of metal ones because you won't run the risk of scraping and scratching the pots and pans that you're cooking with. And wooden utensils won't get hot as metal ones will, an especially important consideration when choosing campfire cooking equipment.
Cups, Plates, Forks, Spoons, and Knives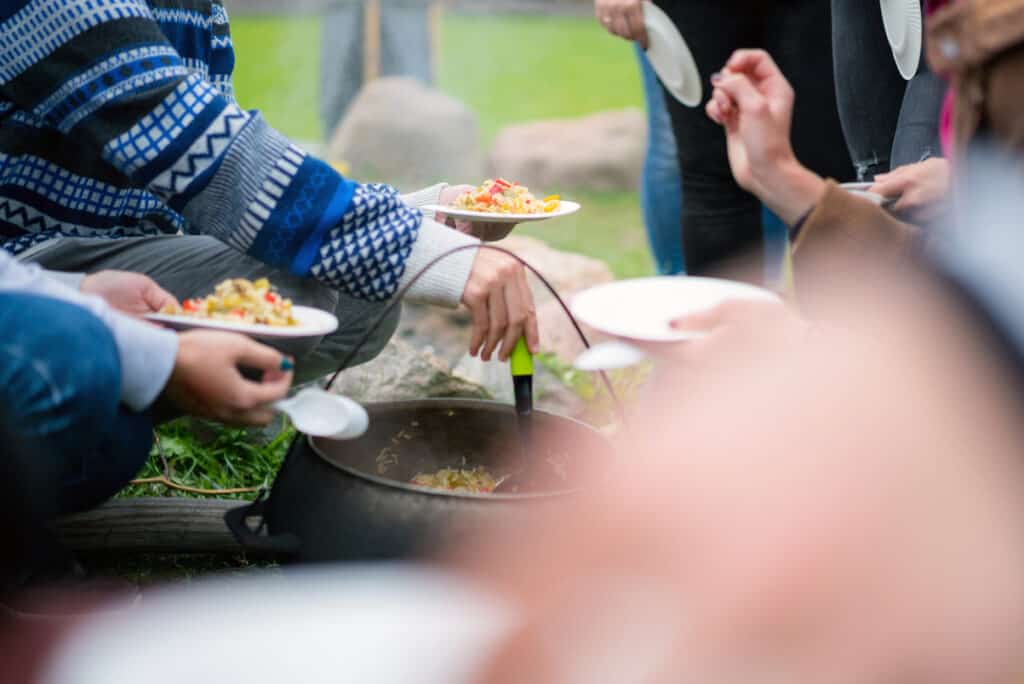 You can't do anything with the great meal you've prepared on a campfire if you don't have the right equipment for eating it with. When you're choosing the right eating utensils, it's a good idea to look for items that are made from stainless steel because they will last longer and are easy to clean with eco-friendly biodegradable soap. If you plan to be cooking while out in the wilderness, look for compact and lightweight items that won't take up much space.
Don't Forget the Hatchet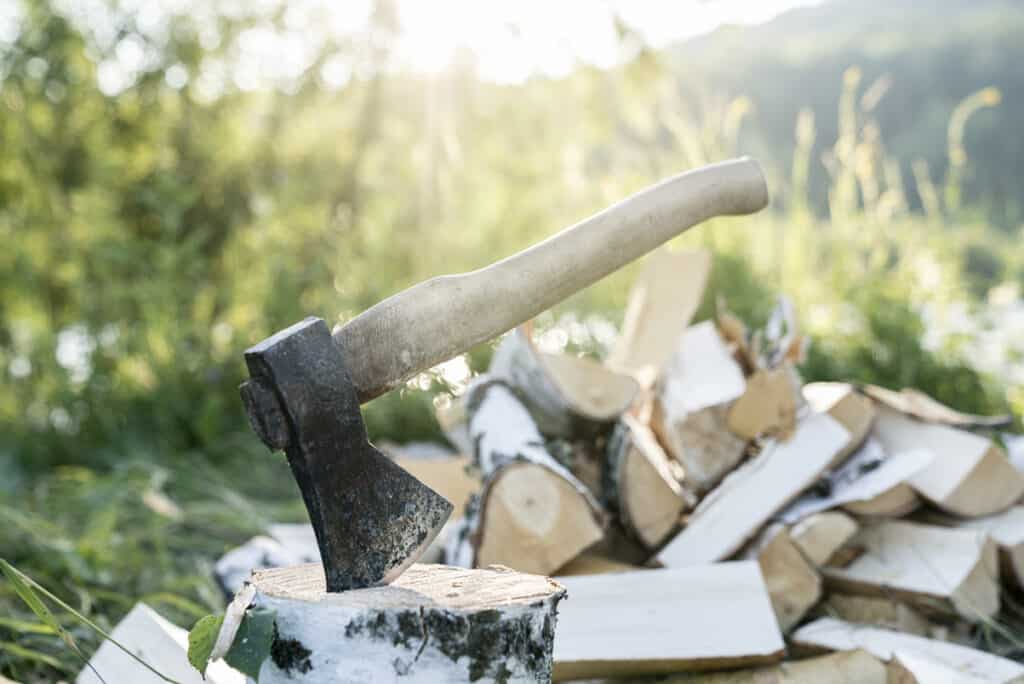 No matter what kind of situation you'll be in while cooking over an open fire, don't leave home without a hatchet. They come especially handy in situations when you need to chop up firewood. You should make sure that you invest in the best hatchet you can find. One that will work well for a range of circumstances, such as when you're camping or are in the wilderness.
Cooking Over a Campfire Is Rewarding and Fun With the Right Equipment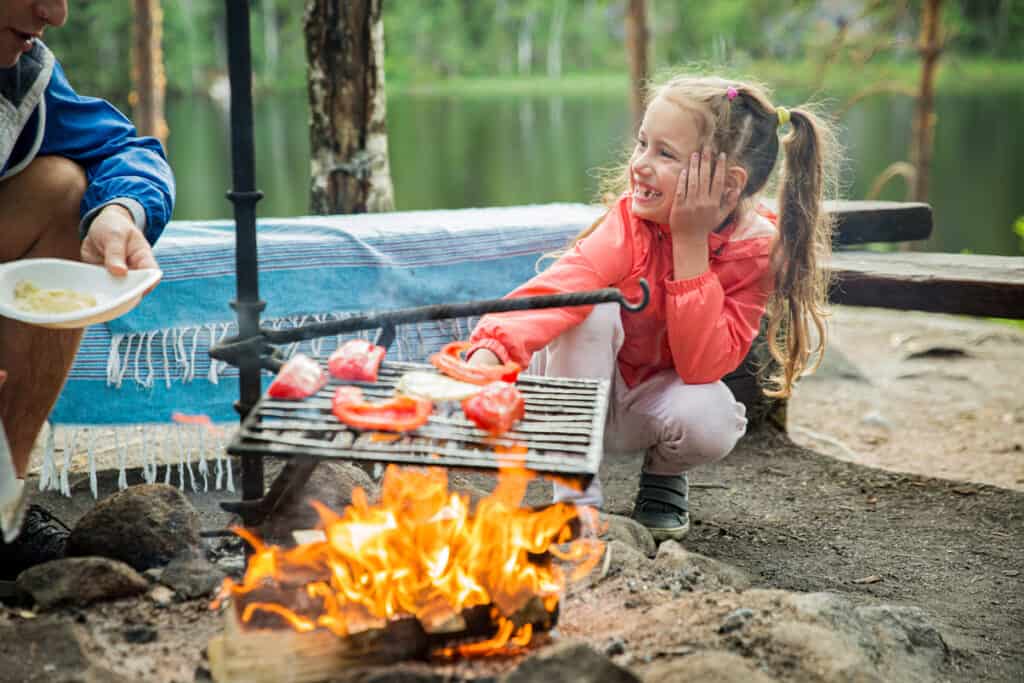 Whether you'll be roughing it in the wilderness or joining your friends and loved ones for some open fire cooking in the backyard, there are great tools to suit what you need.
If you'll be cooking from your car or in your backyard, you should invest in high-quality and durable cast iron campfire cooking equipment. If you'll be cooking while out in the wilderness, consider buying items that are compact and lightweight. That way, once you get where you're going you'll still have enough energy to break out the hot dogs and have some fun!