People have been experimenting with ways of making fire for as long as anyone can remember.
Possessing the ability to start a proper fire whenever it is needed is an important skill for cooking, manufacturing, or simply surviving.
One of the oldest and most widely used methods for quickly setting tinder alight is the fire piston, also known as a fire syringe or slam rod fire starter.
What Is A Fire Piston?
A fire piston is a simple device that is used to start a fire without matches or a lighter. A fire piston consists of a hollow cylinder and a piston that creates an airtight seal when inserted into the cylinder. It's a centuries old method for starting fire and it works by compressing the air inside the fire piston until it reaches a temperature high enough to ignite the tinder placed inside.
Compressing air naturally increases it's temperature; unlike expanding air, which cools, compressed air heats up. So if you compress air quickly enough, the air temperature will increase dramatically and cause any tinder materials (such as char cloth) placed inside the chamber of the fire piston to catch fire.
This method of starting fire has been used around the world for centuries. Southeast Asian fire pistons are known to date back at least two thousand years. The use of the "slam rod" spread from there to across Africa and eventually made its way to Europe (though they may have been independently derived from air guns there), where it became a popular household tool in the 18th century.
How Does A Fire Piston Work?
Piston fire starters ignite tinder because of the intense heat caused when air is rapidly compressed. Ramming the piston into the cylinder creates a sudden compression of the air inside. If there's a small bit of tinder inside the cylinder, it should easily combust and create a burning ember.
The action of fire pistons naturally compresses the air inside into a smaller and smaller space. Due to the fact that the heat already in the air is concentrated into a smaller volume much faster than it dissipates, the interior temperature of the cylinder will rise sharply as the air in it gets compressed.
Rapid compression of air by a factor of 25 to 1, which occurs inside most types of fire pistons, concentrates energy sufficiently to raise the temperature of the air within the piston tube to 800 degrees Fahrenheit. This is easily hot enough to ignite the bit of tinder or char cloth that's been placed inside the fire piston cylinder.
How To Choose The Best Fire Piston
A fire piston is a fairly simple looking tool. However, a fire piston has to be constructed and assembled in just the right way or it may not work… just when you need it the most.
Here are some important features to look for when choosing the best fire piston:
The cylinder needs to be sealed or closed-ended on one side and open at the other.
The piston needs to create an airtight seal as it is inserted into the cylinder. This is usually accomplished by using a rubber O-ring to create a completely airtight seal when the time comes to thrust the piston into the cylinder to ignite.
Make sure the piston has a solid handle that won't snap or break under use. If you're going to be pushing hard on it you don't want a flimsy piston that could break or a surface that could harm your hand.
It also works best if the hollow cylinder has a small indentation or crevasse inside that provides a good space to hold the tinder of choice. It's also nice to have spare parts included, such as a replacement rubber O-ring. A sample of some char cloth is good to have, so you can try it out right away.
How to Use a Fire Piston Step-by-Step
Step 1: Load – Using fire pistons begins with the small bit of tinder that needs to be placed inside the cylinder. Good options for tinder include char cloth, dry leaves, birch tree bark, moss, or cotton balls.
Step 2: Assemble – insert the end of the piston into the open end of the cylinder. For many types, it's important to lubricate the piston with a lubricant such as petroleum jelly.
Step 3: Slam – Find a hard surface to rest the other end of the cylinder on, make sure you have a firm grip on the handle, and quickly slam the piston the rest of the way into the cylinder. If everything has worked properly, your char cloth or other tinder should have been set alight — creating a smoldering mass that can be used to light a fire.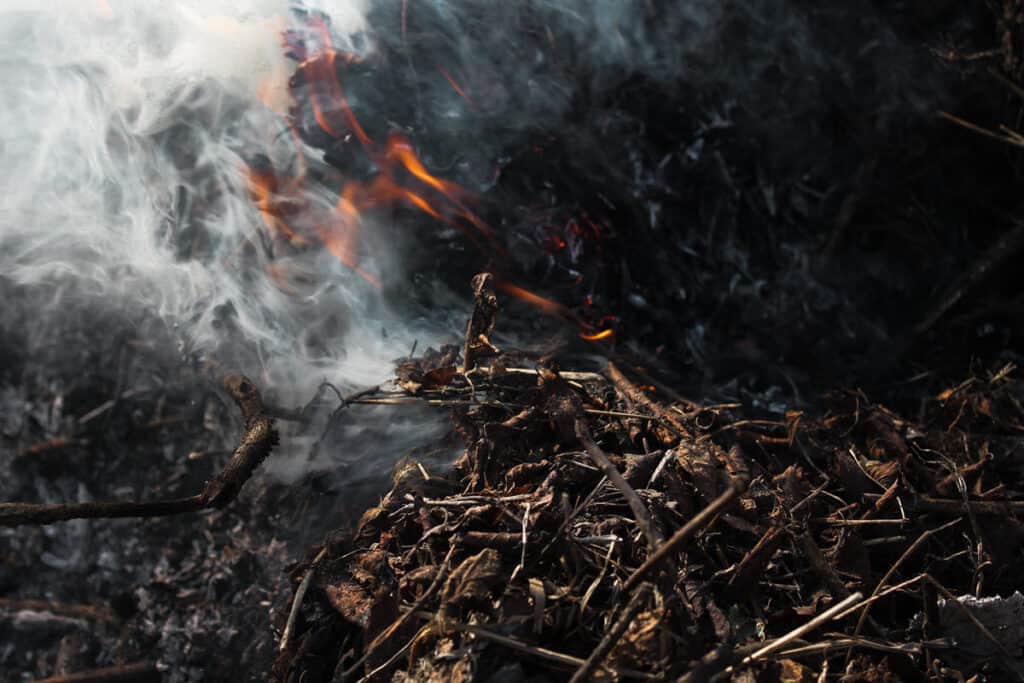 How to Turn Smoldering Tinder into a Fire
Once you've got the tinder lit in your fire piston, it's important to keep the spark going. Transfer the now burning tinder to a pre-prepared pile of kindling material like a pile of small sticks, fatwood shavings, a large clump of moss, dried-out pine needles, or even cotton ball fire starters.
Once the kindling has caught flame and is burning well, you can transfer it from the fire piston to a place where you've got larger pieces of wood set up. This must be done quickly, as the now burning tinder depletes the available oxygen inside the fire piston.
Make sure these initial pieces are burning before gradually adding larger kindling followed by larger pieces of wood or logs, until the fire is the right size for your purposes.
However, if you are using wet wood to build your fire, be sure to read our how to start a fire with wet wood article.
Why Fire Pistons are Still Useful
Even though the popularity of fire pistons for use in daily life has diminished since the invention of the safety match, they are still a useful tool for survival situations. The big advantage the fire piston has over matches is that it still works dependably even after getting wet. As long as the cylinder is dried out before use, there's no problems if your fire piston gets soaked before a fire has been started.
As part of a survival kit, a fire piston is a great way to ensure you can start a fire in any situation. Either as a backup in case your matches get soaked, or as a standalone fire starter due to its efficiency and dependability, this is a great way to get a fire started in a large variety of situations and weather conditions.
Tip: For the ultimate in in all-weather fire-starting gear… check out our list of the best Ferro Rods.