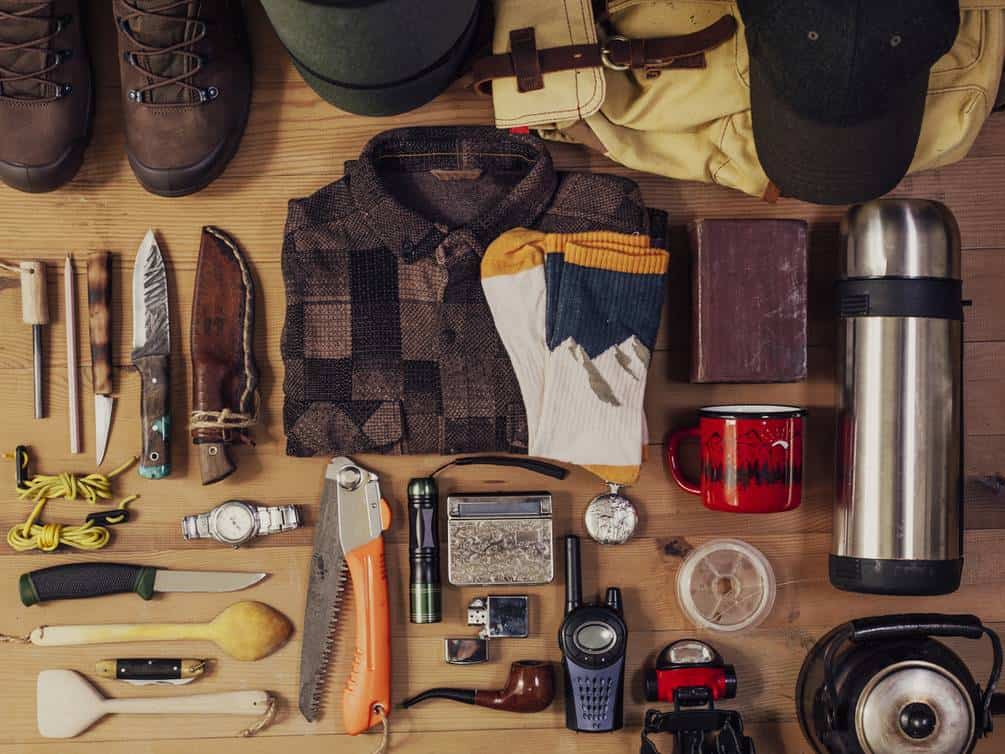 /
Venturing into the wilderness can feel daunting, especially when making your bushcraft gear list. A well-prepared kit is not a luxury but a necessity for survival in nature. This article provides an extensive and detailed guide on essential bushcraft gear, curated from various outdoor survival courses and expert advice.
Key Takeaways
A wilderness survival knife is crucial for various tasks, such as preparing food and creating shelter.
Lamps, flashlights, and headlamps are essential for illumination in emergencies. Hunter Orange or safety vests can also provide reliable visibility and act as effective signal devices.
Bags/packs designed specifically for bushcraft are essential for carrying necessary supplies while ensuring comfort during your outdoor adventure. These bags often contain survival kits with tools like paracord and first aid kits.
Survival Gear Tools
This section will explore the essential survival gear tools needed for outdoor bushcraft.
Knives
A wilderness survival knife is a crucial piece of bushcraft gear for numerous survival tasks. It allows you to prepare food in multiple ways – from dressing game and skinning fish to slicing fruits.
With a trusty knife, creating makeshift shelters and crafting other indispensable tools become feasible in the wild. Furthermore, many experienced bushcrafters view knives as the ultimate survival tool, often taking precedence over any other equipment due to their versatility and indispensability outdoors.
Investing in a high-quality knife significantly boosts your chances of surviving an outdoor adventure by providing help with staying fed, hydrated, and sheltered in diverse scenarios.
The Hultafors Messer OK4 is a good choice. Get it at Amazon, or check it out on eBay. The upgrade choice would be a Morakniv Garberg: get it at Amazon, or check it out on eBay.
Illumination
Lamps, flashlights, and headlamps lead the pack regarding essential illumination tools for bushcraft. Their portability makes them a favorite among outdoor survival enthusiasts.
In addition, these tools are highly durable and resistant to harsh weather conditions. Some models offer long battery life or an alternative power source, making them reliable companions on bushcraft trips.
The visibility factor cannot be overlooked in emergencies either. Tools like Hunter Orange or safety vests provide reliable illumination even without batteries and double up as effective signal devices due to their high visibility colors.
Waterproof options add another layer of resilience, ensuring you won't be left in the dark when rain hits your campsite.
I prefer headlamps to keep my hands free. Pick up a Black Diamond Spot 400 and you won't be sorry. Get it at Amazon, or check it out on eBay.
Bags/Packs
Bags and packs play an essential role in outdoor survival situations. They're more than a simple backpack; these specialized bushcraft gear carriers are often called "Get Home Safe Bags." These are not your typical bags but rather durable, waterproof, and breathable ones that withstand the harshest conditions.
Survival kits within them provide quick access to tools like paracord, compasses, first aid kits, and even your foldable bushcraft knife. The versatility of such bags ensures you can carry ample supplies without sacrificing comfort during your bushcraft trip.
Other Survival Tools
Flint and steel, a knife, and a hatchet are essential outdoor survival tools. These tools serve multiple purposes, such as firemaking, carving, and splitting wood. In addition to these basic tools, it is important to have other items in your gear list.
An axe can be useful for chopping larger pieces of firewood or building shelter. A saw is handy for cutting branches or logs into smaller pieces. And don't forget a knife sharpener to keep your blades in top shape.
These additional survival tools will enhance your bushcraft skills and ensure you're well-prepared for any wilderness adventure.
Survival Gear for Firecraft
To survive outdoors, having the right gear for firecraft is crucial. This section covers everything you need to know about starting a fire in the wilderness, from fire-making tools to fire starter kits.
So keep reading and make sure you're prepared for any bushcraft adventure!
Fire Making
Fire-making is an essential skill for outdoor survival. Starting a fire is crucial in bushcraft because it provides warmth, light, and a means to cook food and purify water.
No matter the conditions, having the ability to start a fire can be a lifesaver. The Ultimate Bushcraft Gear List emphasizes the importance of firecraft in any wilderness situation.
Whether using traditional methods like rubbing sticks together or relying on modern tools such as waterproof matches or a fire starter kit, being prepared to make fire is essential when venturing into the great outdoors.
Survival Gear for Shelter
When it comes to shelter in the wilderness, a tarp or tent is essential for protection against the elements. A sleeping bag or space blanket will keep you warm during cold nights, while a fire starter kit ensures you can create warmth and cook food.
Don't forget to pack a first aid kit and compass for added safety measures.
Tarp or Tent
Tents and tarps are important options for creating a shelter in survival situations. Tents offer the advantage of being easy to set up, durable, and providing better protection against the elements.
On the other hand, tarps are lightweight, compact, and versatile. They can make long-term shelters waterproof, although there may be a trade-off between durability and weight.
Ultralight sil-nylon tarps are available as well. The size of your tarp or tent will depend on your individual needs and preferences.
Sleeping Bag or Space Blanket
A sleeping bag or space blanket provides shelter and warmth in outdoor survival situations. While a sleeping bag offers insulation and comfort, a space blanket is a lighter alternative.
These blankets are made of lightweight, reflective material that helps retain body heat. However, opinions on their effectiveness vary. In addition to space blankets and sleeping bags, other options include bivy sacks, ultralight tarps, large plastic sheets, and wool blankets.
Each has its advantages depending on the specific situation.
Fire Starter Kit
A fire starter kit is a crucial component of any bushcraft gear list. It includes essential tools for starting a fire quickly and efficiently in survival situations. A fire starter kit typically consists of a lighter, matches, and a flint striker.
These items provide different options to ignite flames under various circumstances. For example, waterproof matches are ideal for starting fires even in wet conditions, while ferro rods can produce sparks that easily catch onto tinder.
A fire-starting paste is another option that can be used as an accelerant to quickly get the fire going. The ability to start a fire is vital for providing warmth, cooking food, boiling water, and signaling for help when needed most in the wilderness.
Thus, having a reliable fire starter kit should be prioritized by bushcraft enthusiasts and outdoor adventurers alike.
First Aid Kit
A first aid kit is a crucial item for any wilderness survival kit. It should be customized to meet your specific needs and preferences. You can easily build your first aid kit by purchasing bandages, gauze, medical tape, antiseptic wipes, antimicrobial cream, antihistamines, and pain relievers.
A well-stocked first aid kit is essential for addressing injuries and providing medical assistance during emergencies. This is especially important for beginners in the world of prepping.
Compass
A compass is a crucial piece of gear for outdoor survival. It helps you find your bearings and maintain a specific direction of travel, ensuring you don't get lost in unfamiliar territory.
With a good orienteering compass, you can confidently navigate through dense forests or rugged terrains, increasing your chances of reaching safety. Whether on a bushcraft trip or facing an emergency, having a reliable compass can make all the difference in finding your way back home.
Don't leave for the wilderness without it!
Bushcraft Clothing and Food
For bushcraft clothing, you'll need essential items like headwear, shirts, jackets, pants, socks, boots, gloves, and a backpack.
Bushcraft Headwear, Shirt, Jacket, Pants, Socks, Boots, Gloves, Backpack
Regarding bushcraft clothing, choosing items suitable for outdoor survival is important. A baseball cap can provide shade and protect your face from the sun, while a waterproof jacket will keep you dry in wet weather.
Outdoor pants with reinforced knees are durable and can withstand rough terrain, and sturdy hiking boots provide support and grip. Don't forget about layering – a wool pullover can provide warmth when temperatures drop.
Comfortable underwear and socks are essential for long hikes, while breathable shirts help regulate body temperature. Finally, a hat can shield your head from the elements. When selecting gear for bushcraft adventures, invest in a durable backpack that is spacious enough to carry all your essentials.
Canteen Kit
Canteen kits are a crucial part of any bushcraft camping outfit. These kits are designed to help you collect and purify water in outdoor survival situations. A typical canteen kit includes a metal canteen, filter, and a metal pot for boiling water.
Canteen kits are considered so essential that they are recommended gear for wilderness survival courses. One popular option is the Pathfinder Canteen Cooking Kit. So pack a reliable canteen kit before heading out on your next bushcraft trip!
Dry Food
Dry food is a must-have item for bushcraft and outdoor survival. It's lightweight, easy to pack, and has a long shelf life. One recommended brand of dry food is Augason Farms Breakfast and Dinner Variety Pail, which contains various meals perfect for wilderness adventures.
By having a stockpile of dry food, you can ensure that you always have something to eat in case of emergencies or when you're out exploring remote areas. Don't forget to include dry food as part of your bushcraft gear list to keep yourself fueled during your outdoor excursions.
Fishing Line and Hooks
Fishing lines and hooks are essential tools for outdoor survival. They are recommended to be included in a wilderness survival kit, as they can be used to fish in nearby streams and provide a reliable means of harvesting food in a survival situation.
Fishing lines and hooks are part of the 10-item kit suggested for surviving alone in a wilderness setting. Including them in your clothing/apparel prepper gear is also advisable.
In scenarios like being stranded on a deserted island, fishing line and hooks become even more crucial equipment. So pack them along with other essential bushcraft gear for your next adventure!
Conclusion
Having the right bushcraft gear is essential for outdoor survival. From a reliable knife to shelter and fire-making tools, each item is crucial in keeping you safe and prepared in the wilderness.
By following this ultimate gear list, you can confidently equip yourself with the essentials needed to tackle any outdoor adventure or emergency. So gear up and get ready for your next bushcraft trip!
Bestseller No. 1
Open Seed Vault 15,000 Heirloom Seeds Non GMO Organic for Planting Vegetables & Fruits (32 Variety Pack) – Gardening Seed Starter Kit, Survival Gear Food, Gardening Gifts, Emergency Supplies – Premium Quality, High Yield Produce (Packaging May Vary)
100% USA HEIRLOOM SEEDS – These open-polinated, non-hybrid, raw, chemically untreated heirloom seeds have never been sourced from Monsanto and never will be! Our heirloom seeds non GMO organic product makes a great gardener gift.
PERFECT FOR SURVIVALIST, PREPPERS, & EMERGENCY – These heirloom seeds are perfect for emergency situations, such as hurricanes, tornadoes, floods, droughts, war, famine, and other natural disasters or acts of God. OSV garden seeds are essential for bug out bags, preparedness kits, camping gear, and survival gear equipment.
PLENTIFUL HARVEST – You can harvest up to 15,000 fruits and vegetables from 3,000 seeds per variety seed pack, such as beans, pumpkin, lettuce, tomatoes, sunflower, radish, spinach, carrots, cucumbers, watermelon, squash, peppers, and eggplants.
STEP BY STEP INSTRUCTIONS AND SEED SAVING GUIDE for growing and seed saving. It's easy to use and packed with information. Includes planting time suggestions, harvesting instructions, and a primer on seed saving that will help you turn your garden into an everlasting food supply.
HIGH GERMINATION RATES & 99% PURITY – Our seeds are stored in an air-tight, moisture-proof resealable bag for safe, long-term storage. These seeds have high germination rates and 99% purity, ensuring succesful growth and abundant food supply.
Sale
Bestseller No. 2
Membrane Solutions Portable Water Filter Straw Filtration Straw Purifier Survival Gear for Hiking, Camping, Travel, and Emergency, Blue, 4 pack
✅Survival Gear for Outdoor Water Needs – SGS certificated, Test Report NBF21-004693-01. If you want to obtain clean drinking water simply and quickly, you can use this survival gear. The portable and lightweight filtering system is ideal for recreation, hiking, camping. It's also your good companion for scouting, domestic and international travel, and emergency preparedness.
✅Portable & Long Life-Span – This straw filtration at only 7.1" long and 1″ in diameter fits any 28mm threaded bottle, cup, or glass. It weighs just 2 ounces and fits in the palm of your hand, pocket, gym bag, backpack, survival pack or purse. Both ends of the Upgrade water filter straw are removable for cleaning to extend Longer Lifespan ensuring it provides up to 1,320 gallons (5,000 liters) of drinking water. Don't miss this opportunity to drink clean water conveniently wherever you go.
✅5-Stage Filtration – Our Upgrade 5-Stage Filtration System includes a coarse filter screen, double layer pp cotton fiber, coconut shell activated carbon and hollow fiber ultrafiltration membranes. which can remove 99.99999% of harmful substances (pollution, odor, chlorine and organic chemicals, etc.) and improve the taste. Ensuring the safest water in the worst environments.
✅Smaller Pore Size – We all know that the smaller the pore size, the higher the filtering accuracy, our pore size is 0.1microns which can filter out 99.99999% of the harmful particles. Compared to the 0.2-micron water purifier straw on the market, Membrane Solutions 0.1 microns pore size water purifier straw maintains the optimum flow rate (16.9 fl oz/min / 500ml/min) and a high filtration accuracy at the same time.
✅High-Quality Materials & Versatile Filtering Modes – Made of durable food-grade plastics, manufactured with BPA-Free ABS, ensuring safe and quality drinking water. Compared to the big filter straw on the market, Membrane Solutions water filters have a smaller frame, more convenient to use and more filtered modes, ideal for connecting with a soft water pouch or disposable water bottle to squeeze, even as a replacement gravity filter to get pure water for family & group.
Sale
Bestseller No. 3
BleedStop™ First Aid Powder for Blood Clotting, Trauma Kit, Blood Thinner Patients, Camping Safety, and Survival Equipment for Moderate to Severe Bleeding Wounds or Nosebleeds – 4 (15g) Pouches
BLEEDSTOP IS THE ONLY BRAND NAME BLOOD COAGULANT IN ALL WALGREENS, CVS AND WALMART STORES. BleedStop is also available in all RiteAid stores. No other product works as well as BleedStop.
STOPS BLEEDING UPON CONTACT: BleedStop powder is quick, safe and easy to use on moderate to severe wounds, lacerations, cuts, scrapes and nosebleeds (for nosebleeds see BleedStop Nosebleed Strip product available on ), making it one of the most essential supplies for every day first-aid, such as kitchen cuts and protecting your children. Also a necessity for rigorous outdoor activities such as camping, hiking and cycling, among others where moderate to severe bleeding wounds can occur.
WORKS FOR PEOPLE ON BLOOD THINNERS TOO: Are you taking blood thinners regularly Be assured that BleedStop first-aid powder will work to control bleeding for you too.
SAFE and NON STINGING: While BleedStop is used by doctors and in emergency rooms across the country, it can be safely applied on everyone, including kids, whenever needed as it's a non-stinging formula.
HOW TO USE: Simply pour a layer thick enough to cover the entire surface of the wound/laceration before applying firm pressure over the bleeding site using sterile gauze or bandage. BleedStop powder is safe on to leave it on the wound, so it's not necessary to wash it off before bandaging. Please seek emergency medical treatment if bleeding doesn't stop after a prolonged period of time.